News highlights, upcoming events and reminders for the CPA community.
Friday, March 2, 2012
---
From the Headmaster: Rapt Attention
"(It takes eleven days to go from Horeb to Kadesh Barnea by the Mount Seir road.) In the fortieth year..." (Deuteronomy 1:2-3)
"'Speak, for your servant is listening.'" (1 Samuel 3:10)
"Do what Thou wilt with me, O God; make of me what Thou wilt, and change me as Thou wilt, and use me as Thou wilt, both now and in the larger life beyond; through Jesus Christ our Lord." (Dr. John Baillie, A Diary of Private Prayer)
I peeked into my granddaughter's kindergarten classroom the other day. Her attention was absolutely riveted on her teacher. Whatever the lesson was, Mrs. Teller "had" AW at "hello." Mrs. Teller was writing on the board. AW was oblivious to anything going on to her right or left, oblivious even to Papa looking through the door. Her eyes never left her teacher. A couple of devotional readings this morning spoke to this kind of focus/rapt attention:
"Jesus cuts to the heart of the matter as he sets the child on his knee. The child is unself-conscious, incapable of pretense. I am reminded of the night little John Dyer, three years old, knocked on our door, flanked by his parents. I looked down and said, 'Hi, John. I am delighted to see you.' He looked neither right nor left. His face was set like flint. He narrowed his eyes with the apocalyptic glint of an aimed gun. 'Where's the cookies?' he demanded. The Kingdom belongs to people who aren't trying to look good or impress anybody, even themselves. They are not plotting how they can call attention to themselves, worrying about how their actions will be interpreted, or wondering if they will get gold stars for their behavior. Twenty centuries later, Jesus speaks pointedly to the preening ascetic trapped in the fatal narcissism of spiritual perfectionism, to those of us caught up in boasting about our victories in the vineyard, to those of us fretting and flapping about our human weaknesses and character defects. The child doesn't have to struggle to get himself in a good position for having a relationship with God." (Brennan Manning, Reflections for Ragamuffins)
"If I am united with Jesus Christ, I hear God, by the devotion of hearing all the time. A lily, or a tree, or a servant of God, may convey God's message to me. What hinders me from hearing is that I am taken up with other things. It is not that I will not hear God, but I am not devoted in the right place. I am devoted to things, to service, to convictions, and God may say what He likes, but I do not hear Him. The child attitude is always, 'Speak, Lord, for your servant is listening.' If I have not cultivated this devotion of hearing, I can only hear God's voice at certain times; at other times I am taken up with things…and I become deaf to Him, I am not living the life of a child. Have I heard God's voice today?" (Oswald Chambers, My Utmost for His Highest)
Deuteronomy 1:2 has been called "the saddest verse in the Bible." Why? Because it says, in essence, that it only takes a journey of eleven days to reach the Promised Land. The next verse begins, "In the fortieth year..." What happened? They didn't listen. They took their eyes off of their Teacher. May it not be so among us... Soli Deo Gloria. – Richard B. Anderson
---

Faculty & Staff Birthdays
Happy birthday to...Eric Brandon (2/18), Susan Cline (2/19), Beth Graham (2/20) and Margaret Light (2/22).
---

Reminder: No School K-12 Monday, Feb. 20, and Tuesday, Feb. 21
There will be no school for K-12 students this Monday and Tuesday due to Presidents' Day and faculty in-service.
---
Middle School Cake Bake Raises $3,400
CPA Middle School students participated in the annual "Cake Bake" Monday, Feb. 13, as part of their service project for February. Boys from each grade formed groups to create and bake a special cake that was bid on by groups of girls in their grade. The students raised $3,400 (the largest amount ever for this event) to benefit the Make-A-Wish Foundation.
---
Tri-M Marks the Day of L.O.V.E. With a Song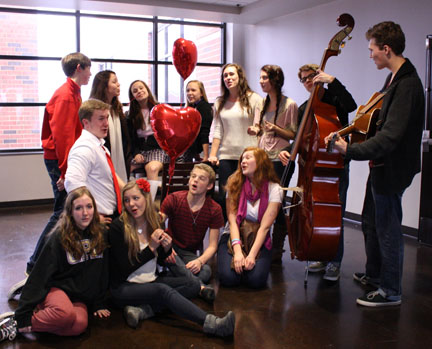 On Tuesday, Feb. 14, Tri-M (the Academy's music honor society) marked the day of love by delivering singing telegrams to students in various classrooms throughout the high school. The group sang "L.O.V.E." by Nat King Cole to every recipient of the singing telegrams and raised $445 for the Serving His Children Orphanage.
---

Traveling Back in Time: Eighth Grade '40s Day
On Friday, Feb. 17, eighth-grade students did their part to boost the morale of America's brave men and women overseas during "'40s Day", marking the culmination of their unit of study of this crucial era. Students dressed in full costume throughout the day and took part in several events including Victory Touring Circuits and "Mail Call," which included dancing and singing from the USO.
---
Creative Spaces: Va Cafe + Actfest — Friday, March 2
Tickets on Sale Now!
Come to the High School Atrium on Friday, March 2, at 7 p.m. and experience what CPA High School artists, filmmakers and actors are creating! This innovative evening blends visual art, micro cinema, and theatrical performances. Don't miss this eclectic one-night-only event!
Tickets are on sale now for $5 and can be purchased at one of three reception desks (lower elementary, middle school and high school).
---
Key Calendar Dates for 2012-13 Available Online
Important events and dates for the 2012-13 school year are now available for viewing online (along with key dates for the current year as well). To view the 2012-13 dates, please click HERE.
---

Parent Opportunity: Learning About Learning

Live Scribes Posted
In case you missed this morning's Learning About Learning session, please visit THIS LINK to view and listen to the discussion.
Next Session Friday, Feb. 24
Join us for Learning About Learning, a series of information-packed discussions with Katherine Koonce, Academic Dean, exploring the amazing and sometimes complicated process of learning, and how our children's learning affects our parenting. The series, which has an elementary and middle school parenting focus, includes seven sessions, each meeting on Friday morning in the Chapel. Join us for coffee at 7:45 a.m. All sessions, which are open to the community, will begin promptly at 8 a.m. and will conclude approximately at 9 a.m.
We hope to see you next Friday, when we explore the topic: If At First You Don't Succeed...Encouraging Resilience and Perseverance in Children and Teens. No one likes to fail. It can be a painful and even humiliating experience. It happens, though, and when it does, our children have an opportunity for growth which no other experience can provide. Many children have difficulty learning from failed experiences, so we need to help them learn to fail…successfully. Resilience and perseverance allow our children to strengthen skills and abilities, to guard against the paralysis of perfectionism, and to advocate for themselves positively and effectively. We'll talk in this session about strategies we as parents can employ that will allow our children not only to bounce back from disappointment but also to learn the important lessons only such experiences afford.
---

Calling All High School Filmmakers!
Submit a film to the CPA film contest and win big! This year's genre is a short, documentary film (3-7 minutes). The first-place winner will take home a $300 Best Buy gift card. Stop by the Broadcasting room to pick up a form.

All entries must be submitted on playable DVD format by Wednesday, Feb. 29. Winners will be announced Friday, March 2, at Creative Spaces in the High School Atrium, and work will be shown to the community!
---
Roar Store Item of the Week
This week's item is...
Cheerleading Uniform ($35) with two free shakers!
Sizes 6 and 8 available.
Elementary girls, show your spirit at the basketball playoff games!
---

PSF Priority
CPC and CPA Parent Evening: Wednesday, Feb. 22, 6:30 p.m.
Bullying presents an inevitable reality for many children and young people. Come hear Rodger Dinwiddie, CEO of STARS Nashville, and Breckon Pennell, Olweus Bullying Prevention Program Consultant, share insight regarding bullying and victimization, signs and symptoms, and what we can do to support changes in these types of behaviors. The event will take place in the Event Center at 6:30 p.m. We hope to see you there.

Pause to Pray Verse for Monday, Feb. 13
At noon each Monday, we encourage the CPA community to Pause to Pray. Monday's verse is from Proverbs 12:26 :
"I pray that (child's name) would choose his/her friends carefully, for the way of the wicked leads them astray."

---

CPC Corner
Shepherding Center—Blood Drive 4/11!
The CPC/CPA Annual Red Cross Blood Drive will take place Wednesday, April 11, 3-7 p.m. in the Event Center. We look forward to seeing you there! (Note: Whole blood may be donated every 56 days; this drive is less than 56 days away, so please do not give if you plan to donate at the CPC/CPA drive. For more details about blood donation, visit THIS LINK.)
---
Sports: News and Reminders from Athletics
Monday, Feb. 20:
HS Basketball Consolation Games @ Stratford, 6 p.m.
Tuesday, Feb. 21:
HS Basketball District Championship Games @ Stratford, 6 p.m.
Friday, Feb. 24:
HS Girls Basketball Region Quarterfinals @ Higher Seed, TBA
HS Boys Soccer Scrimmage @ MBA, 6 p.m.
Saturday, Feb. 25
HS Boys Basketball Region Quarterfinals @ Higher Seed, TBA
HS Baseball Scrimmage vs Pope John Paul, 12 p.m.