News highlights, upcoming events and reminders for the CPA community.
Friday, Jan. 6, 2011
Click on any of the following to jump to a specific topic.
---
From the Headmaster
Note: Over Christmas break, Richard B. Anderson journeyed to China to assist his daughter and son-in-law in bringing home a new member of their family. They are en route back to Nashville together this evening (Friday), arriving at the airport at approx. 10 p.m. RBA's regular message will return in next week's edition of This Week @ CPA.
---
Faculty & Staff Birthdays
Happy birthday to... Ashley Kelly (1/4), Stephen Owens (1/4), Jennifer Martin (1/7), Michael Couey (1/8), Shelley Francis (1/11), Summer Millican (1/11), Trudy Waters (1/13), and Jen Fuller (1/14).
---
Parent Opportunity: Learning About Learning
Series Begins Friday, Jan. 13
Join us for Learning About Learning, a series of information-packed discussions with Katherine Koonce, Academic Dean, exploring the amazing and sometimes complicated process of learning, and how our children's learning affects our parenting. The series, which has an elementary and middle school parenting focus, includes seven sessions, each meeting on Friday morning in the Chapel. Join us for coffee at 7:45 a.m. All sessions, which are open to the community, will begin promptly at 8 a.m. and will conclude approximately at 9 a.m.
We hope to see you at the first session on Friday, Jan 13, as we discuss Creating a Learning Environment in Your Home: The Atmosphere and Attitudes of the Home. Our children are learning all the time—in school, in play and at home. Their learning is influenced by the relationship 
between their school, their home and their church. As parents, we
 have the privilege of setting the atmosphere and attitudes of our homes 
and of working together with the school to set the tone for learning with 
our children. In this discussion, we will consider which learning traits—curiosity, perseverance, cooperation, resourcefulness—we would
 like to see developed in our children and how we can encourage the
 development of these traits by the way we view and discuss learning in 
our homes.
---

Important 2012-13 Enrollment Reminders
Just a reminder to make note of these upcoming dates:
— TODAY is the deadline for new students seeking admission to apply to the Office of Enrollment.
— Re-enrollment forms will be mailed Wednesday, Feb. 1.
— Re-enrollment forms are due no later than Friday, Feb. 17.
---

Temporary Tent for CPA Wellness Activities
Over the past two days, you might have noticed a large tent structure on the building side of the soccer/track complex. This is a temporary shelter to provide additional space for the Academy's wellness/physical education activities during the winter months (in light of how well-utilized our Event Center and Varsity Gymnasium are for sports, wellness classes and Fine Arts).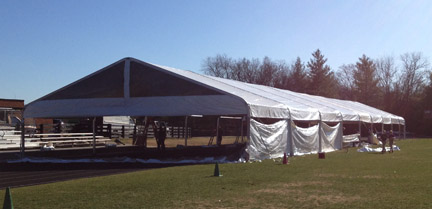 ---
PSF Priority
Third-Quarter Campus Prayer Walk
The first Campus Prayer Walk of 2012 will take place Monday, Jan. 9, at 8 a.m. in the Cross Garden. Join us as we walk the campus and pray for the Academy!
Pause to Pray Verse for Monday, Jan. 9
At noon each Monday, we encourage the CPA community to Pause to Pray. Monday's verse is from Psalm 121:7-8:
"Keep (child's name) from all harm. Watch over his/her life; watch over his/her coming and going, both now and forevermore."
---

Roar Store Item of the Week
Women's Fleece Vest — $35
This warm and cozy vest is available in all adult sizes. (CPA men: Valentine's Day is right around the corner. Just sayin'...)
---
Artworks: Alumni & Student Musical Showcase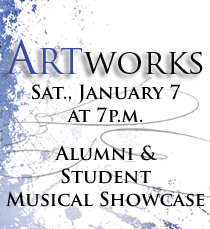 If you've bought tickets for ArtWorks, we look forward to seeing you Saturday, Jan. 7, at 7 p.m. in the Event Center for this premier bi-annual event, which brings together the musical talents of upper-class students with the experience and expertise of alumni who have gone on to pursue performance arts. Please note: the 2012 performance is sold out.
---

CPC Corner

NEW MINISTRY for Women in the Workplace: Kickoff Thurs., Jan. 19
Want to build friendships, hear interesting speakers, and stay connected...but your work schedule conflicts with daytime classes or studies? Come join us for "www.Wi-Fi" (Women Who Work ...Connecting!), a new ministry designed to encourage women in the workplace. This group will meet on the third Thursday night of each month from 7 – 8:30 p.m. in the Parlor. There will be time for refreshment, encouragement and fellowship as we come together in community. No cost. Go to www.christpres.org and click on Women's Ministry/Monthly Events for more information and to register.
---
Sports: News and Reminders from Athletics
CPA @ David Lipscomb Broadcast Tonight
For those who cannot attend in person, we are going to attempt to video-broadcast tonight's girls and boys basketball games against Lipscomb, beginning at 6 p.m. To watch, go to www.tssaanetwork.com/cpa, look for the event name, and click on it to catch the action. Let's go, Lions!
HS Boys' Soccer Parent Meeting: Monday Night
If you are the parent of a high school boys' soccer player interested in being on CPA's team this spring season, please join us for a meeting Monday, January 9, at 5 p.m. in the Dining Hall (High School). We look forward to seeing you there.
FOOTBALL KUDOS: Fifth Graders Honored at LP Field
CPA's fifth grade football team, which ended the fall season as champions of the West Nashville Sports League (WNSL), was honored during the Parade of Champions at the 2011 Music City Bowl on Dec. 30. Way to go, Lions!
The team includes coaches Hedge Burt (head coach), Tony Carletello, Jack Cothren, Eddie Fenoglio, Scott McCormick and Jason West; and players Jack Arsta, Dean Cooper, Alex Cothren, Trey Crunk, Alston Hamilton, Sam Lawrence, Andrew Madden, Tristan Scaife, Malone Stout, Reed Stout, Hunter Fenoglio, Zachary Jackson, Matthew Jones, Dalton Posey, Harrison Rody, Brennen Sheridan, Sam West, Eli Cooper, Luke Filson, Bryce McCormick, Walker Payne, Grant Slover, Ethan Stewart, Jacob Stopkotte, Harrison Ware, Peyton Arnold, Griffin Brooks, John Conner Craig, Parker Eberbach, Colton McGee, Luke McKnight, John Michael Ritchie, McNeil Stout, Joshua Wright and Preston Roten.
Upcoming Events:
Monday, Jan. 9:
HS Swimming @ TSU, 4 p.m.
MS Boys Basketball @ Ensworth, 4 & 5 p.m.
MS Girls Basketball vs. Ensworth, 4 & 5 p.m.
Sixth Grade Basketball vs. Ensworth, 6 & 7 p.m.
Tuesday, Jan. 10:
HS Basketball @ Maplewood, 6 p.m.
Wednesday, Jan. 12:
HS Basketball vs. Martin Luther King, 6 p.m.
MS Girls Basketball vs. Harding Academy, 4 & 5 p.m.
Thursday, Jan. 13:
HS Basketball @ Pearl Cohn, 6 p.m.