News highlights, upcoming events and reminders for the CPA community.
Friday, Jan. 20, 2012
Click on any of the following to jump to a specific topic.
---
From the Headmaster: A Dent In the Bucket List
"When I consider your heavens, the work of your fingers, the moon and the stars, which you have set in place, what is man that you are mindful of him, the son of man that you care for him?" (Psalm 8:3-4)
When I think of the immensity of Planet Earth, I feel like a grain of sand. Several of you have been kind to ask about the China trip. There is too much to try to describe. It would take too long of a conversation...so I came up with this format:
Top Ten Things I Can Cross Off My Bucket List:
10. Eat authentic Chinese food. (Or, as they call it in China, "food.") Check. Tried some new things. Squid? Octopus? Just like Mama used to make. When we tired of Chinese food, we went to McDonald's, KFC, and had Papa John's deliver a pizza to our room on New Year's Eve. Even shopped at Wal-Mart. Go figure.
9. Ride in a rickshaw. Check. It was very cold. I was with a guy from Orlando, pretty good-sized fella. Our driver put a blanket over us and started to pedal his bicycle. I'm not sure how many miles we covered...but at the end, our driver was sucking wind. He took off his cap, smiled, and wiped his brow. Tough way to earn a living...
8. See the body of Chairman Mao. Check. OK, so we didn't actually see the ol' boy, but we saw the building that houses his mausoleum.
7. Visit a museum. Check. Went to the Henan Provincial Museum, a government-owned museum of which they are very proud. Saw relics of the Ming Dynasty and a bunch of really old/neat stuff, as well as a presentation by the Huaxia Ancient Music Ensemble.
6. Watch the Chinese Acrobatic Team perform. Check. Unbelievable! Their strength and agility defies the imagination. Our guide told us: "In China we have a saying, 'Ten years of practice...one minute on the stage.'"
5. Visit a silk factory/jade factory/porcelain factory. Check. We were in three ginormous cities: Beijing (22 million); Zhengou (10 million); Guangzhou (16 million). Even the silkworms are hard workers in this mass of humanity.
4. See the site of the 2008 Beijing Olympics. Check. Saw the "Bird's Nest" (stadium where they held the opening/closing ceremonies). Saw the "Water Bubble" (where Michael Phelps swam to Olympic gold/glory/history).
3. Visit Tiananmen Square and the Forbidden City. Check. Felt like walking through history...from the student revolt (Tiananmen) to the Emperors' home (Forbidden City), which dates back Before Christ. Wow...an ANCIENT culture!
2. Climb the Great Wall of China. Check. Well, a "snippet" of it, anyway. The wall is 5,000 miles long. We climbed it on Christmas Eve. Rebekah took pictures of Nathaniel and me in Santa Claus hats...which got bemused looks from other hikers.
And the #1 thing I can cross off my bucket list:
1. Visit Maria's Big House of Hope. Check. Besides getting Isaac (our grandson), the main reason I wanted to go to China was to see MBHOH in Luoyang. Isaac lived there for two years. To see what our friends Steven Curtis and Mary Beth and their family have invested in was beyond words for me. Our guide, Eddie, put it best: "This place is very warm...and I don't mean the temperature."
Amen, brother! Soli Deo Gloria for the China adventure. — Richard B. Anderson
---
Faculty & Staff Birthdays
Happy birthday to... Cal Cook (1/23) and Bruce Clark (1/26).
---
Calling All CPA Basketball Alumni!
In celebration of 25 years of athletics at CPA, Coach Drew Maddux and Coach Becky LeGate invite all CPA Boys and Girls Basketball Alumni to be recognized during halftime at the boys' varsity basketball game on Friday, Jan. 27. Please spread the word about this exciting opportunity to recognize these alumni for their significant role in building the foundation of what has become one of the best basketball programs in Tennessee. Hoops alumni who are able to attend are encouraged to respond to to confirm.
---

Get Your Tickets Now for HONK!, Jr.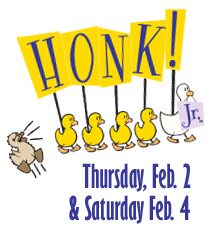 There once was an ugly duckling…or so the story goes. And you know how it turns out! But this sparkling musical version takes some different turns with tap-dancing frogs, fashion-conscious geese and a wily cat. From "The Joy of Motherhood" to "Hold your Head Up High" to "Warts and All," this delightful tale in music and dance is non-stop entertainment that underscores the truth that everyone matters!
Tickets are on sale now for the spring middle school musical, HONK!, Jr., which will take place on Thursday, Feb. 2, and Friday, Feb. 4, at 7 p.m. in the Event Center. Tickets are $10 and can be purchased at one of three reception desks (lower elementary, middle school and high school). Season pass holders: reserve your seats in the Fine Arts suite of the high school building.
---
Calling all Fifth Graders! Middle School Preview Night: Thursday, January 26
Fifth grade students and their parents are invited to Middle School Preview Night on Thursday, January 26, 2012. This is a fun-filled, informative evening that provides a glimpse into the exciting world of middle school waiting for you next year!

Please note the updated schedule below:
6:45-7:20 p.m. — Check in at CPA Middle School upper entrance. Register and pick up your special packet. During this time you will explore the middle school and engage with student ambassadors about curriculum, teachers and activities.

7:30-8:15 p.m. — Program in Fellowship Hall.
Join students, teachers, coaches and administrators and learn what's ahead in middle school!

We encourage all fifth grade students and parents to attend!
---

Lunch Menus Have Changed
Attention: The lunch menus have undergone a few revisions. Please visit the Lunch Menus page on the website and download a new copy for the winter/spring semester.
---
Parent Opportunity: Learning About Learning

Live Scribes Posted
In case you missed this morning's first Learning About Learning session, please visit THIS LINK to view and listen to the discussion.
Next Session Friday, Jan. 27
Join us for Learning About Learning, a series of information-packed discussions with Katherine Koonce, Academic Dean, exploring the amazing and sometimes complicated process of learning, and how our children's learning affects our parenting. The series, which has an elementary and middle school parenting focus, includes seven sessions, each meeting on Friday morning in the Chapel. Join us for coffee at 7:45 a.m. All sessions, which are open to the community, will begin promptly at 8 a.m. and will conclude approximately at 9 a.m.
We hope to see you next Friday, when we explore the topic Using Homework to Teach the Three Rs: Responsibility, Resourcefulness and Respect. Is homework just a necessary evil? We parents often lament the time our children have to spend doing homework, especially if our child resists homework and that time seems to turn into a daily battle. But homework is an excellent vehicle to teach kids important learning and character traits—responsibility, resourcefulness and respect. Our discussion will focus on using that opportuntiy to teach children how to manage their resources, their time and even their emotions. We'll explore how much involvement is the right amount for children at different ages, and how parents can act as learning allies, not enemies, with their children.
---

Parents Invited to Visit Library Media Center Online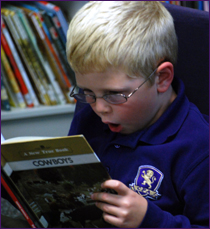 Parents, the Library Media Center invites you to try the databases available to your students on the CPA website by clicking HERE.
As most of our students will move on to higher education, our desire is to prepare them for a college-level curriculum. Google is not accepted as a resource in college classes, and we want "to train up (our students) in the way that they should go" by offering reliable educational databases.

The Academy's Library Media Center has access to more than 50 databases covering global issues, history, literature, music, health, science and practice tests for SAT and ACT. Not only do these databases provide reliable, scholarly information; their articles contain the citation information necessary for the students' research. In addition, many databases allow students to set up individual accounts and save sources.
We hope you will explore the materials on our webpage. If you have any questions, please email Karen Gallagher, High School Librarian, at .
---
CPA Hosts Area Development Luncheon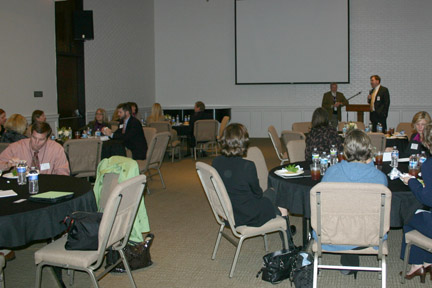 On Tuesday, Jan. 17, the Office of Development & Alumni Relations hosted some 30 development professionals from local schools at a luncheon in the Chapel. The area-wide group meets quarterly at different locations, and the Academy was privileged to provide the meeting space for the first gathering of 2012. Attendees enjoyed outstanding hospitality provided by Academy staff and students and a presentation by development professionals from a local firm. Special thanks to the many volunteers who contributed to this excellent event!
---

Roar Store Item of the Week
This week's item is...
Nike White Adjustable Visor
$20
---

PSF Priority
Pause to Pray Verse for Monday, Jan. 23
At noon each Monday, we encourage the CPA community to Pause to Pray. Monday's verse is from Psalm 141:9-10.
"Keep (child's name) from the snares the enemy has laid for him/her, from the traps set by evil doers. Let the wicked fall into their own nets, while he/she passes by in safety."
CPC Bible Studies and Classes Available to Parents
PSF would like to highlight two Bible studies/classes available to CPA parents through Christ Presbyterian Church:

JAM (Just About Mothering)
Thursdays, 10 to 11:30 a.m. in the CPC window room
The class uses a study from Focus On The Family called Equipping Kids to Face Today's World (Essentials of Parenting). This series deals with some of the tough issues of parenting and helps parents resist the urge to overprotect their children and, instead, prepare them for the world. To register, contact Suzanne Simmons, .org. Childcare is available by reservation.
Wired That Way
Wednesdays, 11:30 a.m. to 1 p.m. in the CPC parlor
Do you have friends, children or coworkers with whom you just don't "connect" because of your different personalities? Come and enjoy this fun, eight-week course where you will discover how to live in your strengths, grow through weaknesses, and build better relationships! Feel free to bring your lunch. Contact .org to register.
Women's Weekly Studies and Classes
For more information, please visit christpres.org.
Redeeming the Realities of Marriage: CPC and West End Community Church Marriage Conference
West End Community Church and Christ Presbyterian Church present:
"What Did You Expect?: Redeeming the Realities of Marriage"
A marriage conference with noted author and speaker Paul David Tripp.
Dates: February 10 and 11, 2012
Location: West End Community Church
**To view a promo video or to register (deadline: Jan. 30) visit THIS PAGE.**
---
CPC Corner
Heart for Children Orphan Care Awareness: Sunday, Jan. 22
Some are called to adoption, but all are called to care for orphans. (See James 1:27) On Sunday morning, January 22, our congregation will have the opportunity to learn about the multitude of ways to care for orphans at home and abroad. Sponsored by Heart for Children, CPC's orphan-care ministry, the day will include information, testimonials, and special guests from other organizations such as Bethany Christian Services, Show Hope, 147 Million Orphans, H.E.A.L Ministries and Middle Tennessee Orphan Alliance.
Please feel welcome to come early and stay late on Sunday, to visit the sponsored tables and get involved.
**Special opportunity: H.E.A.L. Ministries will collect children's chewable vitamins and "Crocs"-style shoes for infants through adults. These items will be taken to the orphanages during spring mission trips. Bring vitamins and shoes to the H.E.A.L. Ministry table on Sunday, January 22.
Click HERE for more information on the Shepherding Center and Heart for Children.
---
Sports: News and Reminders from Athletics
CPA-MLK Games Reset for Monday 1/23
Schedule note: CPA will host Martin Luther King in varsity basketball on Monday, January 23. (This is the makeup from Thursday, January 12). The girls will play at 6 p.m., followed by the boys at approx. 7:30 p.m. Hope to see you in the CPA Varsity Gym to cheer on the Lions!
Live Online Game Broadcasts via TSSAA PlayON!
The Academy will continue to broadcast some of our upcoming girls' and boys' varsity basketball games, live online. To tune in, visit THIS LINK close to the scheduled game times and look for the specific event.
Upcoming Events:
Monday, Jan. 23:
HS Basketball vs. Martin Luther King, 6 p.m.
MS Basketball vs. BGA, 4/5/6/7 p.m.
6th Grade Basketball, @ 4/5 p.m.
Tuesday, Jan. 24:
HS Basketball @ East Literature, 6 p.m.
Thursday, Jan. 26:
MS Basketball @ FRA, 4/5/6/7 p.m.
6th Grade Basketball vs. Goodpasture, 5:30/6:30 p.m.
Friday, Jan. 27:
HS Basketball vs. Whites Creek, 6 p.m.
HS Swimming Region Championship vs. Centennial Sportsplex, 8:30 a.m.
Saturday, Jan. 28:
MS Swimming Championship