News highlights, upcoming events and reminders for the CPA community.
Friday, Jan. 13, 2011
Click on any of the following to jump to a specific topic.
---
From the Headmaster: God's "Face" Beheld
I saw the face of God in China. They came from Lincoln…Kansas City…Salt Lake City…Denver…Seattle…Cincinnati…Orlando…Alexandria…Spring Hill…and Music City USA.
I saw Him in Russ and Megan, in Loren and Jen, in Mia, in Kevin and Simone, in Tom and Siow Fong, in Teri, in Chuck and Karen, in Gary and Rachel…and in our own Rebekah and Nathaniel.
And I saw Him in the beautiful children these folks adopted, now U. S. citizens: Tian Tian Dang…Xin Yuan Dang…Fang Xin Dang…Xin Yue Sun…Ru Bing An…Quiao Dang…You Chun Fu…Xiao Chan Song…and Zi Yu Dang (known now around these parts as Isaac Paul Wright).
About two-thirds of these children have special needs of one type or another; they are ALL beautiful children of God. I saw Him in the caregivers in the state-run orphanage in Luoyang. Men and women who love children…just like we do at 2323…who are doing the best they can playing the hand the government has dealt them.
I saw Him at Maria's Big House of Hope—a sky-blue, six-story building in Luoyang with white clouds and flowers painted on the outside—where special needs orphans are cared for…as Isaac was the past two years.
I saw Him in the faces of Chinese and Filipino caregivers there…in the faces of Dr. Martin, his wife and six children—transplanted Texans who gave up their "normal" life to ask "Where would you have us go, Lord? What would you have us do?"—obediently walking out the answer they heard.
And I saw Him—with tears in my eyes—as I stood next to the picture of Maria Sue Chunxi Chapman in the lobby…one who "maxed out" her short five years for Jesus.
Yes, God "looks" lots of ways, in lots of places, through vessels of all kinds. Bob Benson wrote, "Some of us are golden vessels. Some of us are silver vessels. And some of us are peanut butter jars with part of the label still left on. But what matters not is the vessel…what matters is the content." The Apostle Paul wrote that the content is "Christ in you, the hope of glory." I saw His face in China…but I see His face every day at 2323. Christ in you, the hope of glory.
Soli Deo Gloria. To God Alone Be the Glory…as His face pops up all over this globe. — RBA
---

Faculty & Staff Birthdays
Happy Birthday to... Jen Fuller (1/14), Melissa Jean (1/14) and Sara Starnes (1/16).
---
Soldier Presents Flag to Students
At a special ceremony on Tuesday, Jan. 10, Lt. Rankin Clinton ('04), presented the middle school with a flag that was flown over Afghanistan. Mrs. Rhonda Smith and CPA Middle School students helped to raise funds for Lt. Rankin's entire unit to have a special T-shirt designed. Thanks, Rankin, and thanks to all of the other military alumni who serve our country!
Lt. Clinton is pictured above with MS Principal Rhonda Smith and Director of Development and Alumni Relations Cal Cook.

---
The March of the Penguins
Throughout January, CPA kindergartners have been studying a unit focused on the winter months. To conclude their study, students celebrated Penguin Day today (Friday, Jan. 13) by waddling through the halls in costume, sharing fun facts about penguins, and visiting with Snowbird from WSMV Channel 4. Kindergarten teachers joined the fun as well.
---
Eighth Grade Science Lab Full of Substance
On Monday, Jan. 9, Coach Bruce Francis challenged his eighth grade students to identify the molecular structure of a pure substance by recording the exact freezing and melting point. Students learned that as the substance experienced a phase change and coverted from one state of matter to another, they were able to identify the substance.
---
Jericho: The Walls Came Tumbling Down
To coordinate with their Bible lesson, students in Mrs. Cindy Anderson's class participated in an annual kindergarten tradition of building the walls of Jericho. After working to build the walls throughout the day, the students marched around them seven times until the walls "fell down." Mrs. Jeanne Ellen Graham's second grade class came to watch and serve the kindergartners by cleaning up all of the blocks after they knocked the walls down.
To view more photos from the day, click HERE.
---
"Baby, It's Cold Outside" to Benefit Make-A-Wish
Now through Tuesday, Jan. 31, middle school students may bring $5 to benefit the Make-A-Wish Foundation. If students participate, they will be allowed to wear any boots or shoes the rest of the month. MS students will also support Make-A-Wish during their February service project, the MS Cake Bake.
---
Parent Opportunity: Learning About Learning

Live Scribes Posted
In case you missed this morning's first Learning About Learning session, please visit THIS LINK to view and listen to the discussion.
Next Session Friday, Jan. 20
Join us for Learning About Learning, a series of information-packed discussions with Katherine Koonce, Academic Dean, exploring the amazing and sometimes complicated process of learning, and how our children's learning affects our parenting. The series, which has an elementary and middle school parenting focus, includes seven sessions, each meeting on Friday morning in the Chapel. Join us for coffee at 7:45 a.m. All sessions, which are open to the community, will begin promptly at 8 a.m. and will conclude approximately at 9 a.m.
We hope to see you next Friday, when we explore the topic How to Speak Education-ese: Interpreting the Language of the Education World. We'll look at the unique language of educators: a language used to communicate both about students and to students. Parents' understanding of these terms and their uses will enable them to better partner with the teachers on behalf of their children. We'll also look briefly at standardized testing: the information it holds about your child and the potential misinterpretations. Finally, we will explore the core tenants of the CPA learning community and how we as parents can be part of the school's continuous improvement.
---

Roar Store Item of the Week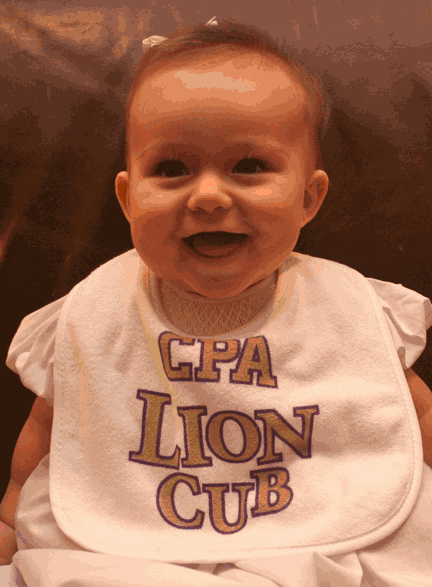 This week's item is...
CPA Lion Cub Bib
$10
Get it while supplies last! (Special thanks to Caroline Cook, daughter of Cal Cook, for modeling the new bib.)
---
Year-End Giving to the Academy: Thank You!
A word of thanks to all of you who made year-end gifts to the Academy, and to all who gave throughout 2011. Thanks to your generosity, we wrapped up the calendar year on a high note. If you made a charitable contribution to the Academy during 2011, you will receive a contribution statement by the end of January with an itemized list of your 2011 tax-deductible gifts. If you have any questions regarding your giving history, please contact us at (615) 301-3681. As always, the Office of Development & Alumni Relations will continue to send all gift acknowledgements by e-mail; year-end contribution letters will always be sent via postal mail. Again, thank you. We look forward to all that God has in store for the Academy in 2012!
---

PSF Priority
Pause to Pray Verse for Monday, Jan. 16
At noon each Monday, we encourage the CPA community to Pause to Pray. Monday's verse is from John 17:14-15:
"Do not remove (child's name) from the pressures and trials of this world, but protect him/her from the evil one. Remind him/her that he/she belongs to you, not to the world."
---
CPC Corner
Pastoral Candidate: The Rev. Scott Sauls
As presented to the congregation on Sunday, January 8, 2012, the Pastor-Search Committee of Christ Presbyterian Church joyfully recommends the Rev. Christopher Scott Sauls to the church to be its next senior pastor. Scott, who most recently serving as Preaching Pastor and Senior Director of Community Formation at Redeemer Presbyterian Church in New York City, is uniquely gifted and qualified to serve Christ Presbyterian and the Nashville community.
To learn more about Scott, his background, his family and his qualifications, please click HERE.

NEW MINISTRY for Women in the Workplace: Kickoff Thurs., Jan. 19
Want to build friendships, hear interesting speakers, and stay connected...but your work schedule conflicts with daytime classes or studies? Come join us for "www.Wi-Fi" (Women Who Work...Connecting!), a new ministry designed to encourage women in the workplace. This group will meet on the third Thursday night of each month from 7 – 8:30 p.m. in the Parlor. There will be time for refreshment, encouragement and fellowship as we come together in community. No cost. Go to www.christpres.org and click on Women's Ministry/Monthly Events for more information and to register.
---
Sports: News and Reminders from Athletics
Roman Scores 1,000th Point
Congratulations to junior Meredith Roman (pictured right), who scored her 1,000th basketball point during CPA's Tuesday night game vs. Maplewood. Congratulations, Meredith, and the varsity girls basketball team (16-2)!
Tennis Coach Receives Coach of the Year Award
Congratulations to Coach Greg Seat, CPA's HS Girls Tennis Coach from 2007-2011, who was selected to receive the 2011 NFHS Coach of the Year award at the State Level. Way to go, Coach Seat!
Upcoming Events
Tuesday, Jan. 17:
HS Basketball @ Hume Fogg, 6 p.m.
Thursday, Jan. 19:
MS Boys Basketball @ MBA, 4 & 5 p.m.
Sixth Grade Basketball vs. Oak Hill, 4 & 5 p.m.
Friday, Jan. 20:
HS Basketball vs. Nashville Central Christian, 6 p.m.
Sixth Grade Girls Basketball @ Harpeth Hall, 4 p.m.