News highlights, upcoming events and reminders for the CPA community.
August 31- September 7, 2012
---
Faculty & Staff Birthdays
Happy birthday to Chris Harris (08/31), Jennifer McKnight (09/02), Anne Purdy (09/02), Maria Jernigan (09/03), Rhonda Smith (09/05), Bev James (09/06).
---
Welcome Home "DEN-ner": Friday, Sept. 7 (REGISTER TODAY)
Friday, September 7, is the date for our special tailgate dinner for all CPA families before the first home varsity football game. This is an annual community event with an extra-special welcome to new families. The dinner is from 5:30 p.m. to 6:30 p.m. in the Dining Hall (HS). Please make sure to register online for the number of guests attending as well as the meat choice of barbecue or hotdog.

To register online, visit our home page and click on the Welcome Home DEN-ner box (bottom center).

**The deadline to register is TODAY, Friday, August 31.**
Please also make a point to stop in and support the CPA girls' varsity volleyball team before you head to the dinner. CPA hosts Nashville Christian at 4:30 p.m. in the Varsity Gym.
The football game will kick off at 7 p.m.—after a Spirit Line on the field at 6:45 p.m.—with CPA taking on Lancaster Christian School. Let's go, Lions!

If you have questions about the DEN-ner, please email Jen Seger at .
---
PowerSchool Updates and Reminders
Family-Information Changes: Thank you for taking time to update your contact information during Registration. All submitted changes will be applied to the CPA Family Directory, and a new version will be uploaded to the PowerSchool Family Resource Page on Friday, October 1.
In addition, Grade-level Lists on the PowerSchool Family Resource Page are updated every Friday with any new address or information changes. Login to PowerSchool with your new Parent Single Sign-on to access these updated lists. If you have not created your "Parent Single Sign On" for PowerSchool, please do so immediately. You may refer to the packet provided at Registration for instructions.

Reminder: if you choose to "OPT OUT" of receiving emails, text messages or telephone calls in PowerSchool, you will not receive automated alerts used to provide critical information in the event of an emergency.
Please send new information updates to Jan Huddleston, Assistant to the Registrar, at .
---
College Counseling Update: National Honor Society
Some CPA families have received an invitation in the mail to join the National Society of High School Scholars. Please be advised that this is not an organization that we suggest you join. It is a for-profit organization and will have no meaning in the college application process. The CPA chapter of the National Honor Society, on the other hand, is a meaningful organization that colleges respect. NHS is open to juniors and seniors who have a 3.5 cumulative GPA and have completed (or are currently enrolled in) at least one Honors level course. Students who are eligible for induction will receive a notification from CPA in the coming weeks. Please do not hesitate to contact Catherine Sawyer or Jason Edwards, CPA College Counselors, with any questions at or .
---
High-School

Parent

Night

: Thursday, Sept. 6, 7 p.m.
HS Parent Night will take place Thursday, Sept. 6, at 7 p.m. in the Varsity Gym.
Please arrive no later than 6:45 p.m. to pick up your child's schedule. The CPA High School administration and teachers look forward to spending a wonderful evening with you and discussing the exciting things that God is doing this year.
---
Two High-School Host Families Still Needed
Thank you to the families that have graciously agreed to host exchange students! We still have two Guatemalan exchange students wanting to attend CPA who need host families (preferably families with high-school boys). The students are Diego Felix (11th grade) and Victor Padilla (9th-10th grade). Please contact Kathy Mitchell at (615) 301-3531 as soon as possible if you are interested in learning more about this great opportunity.
---
Parent Information Sessions for Prospective Families
Prospective families are already inquiring about admission for 2013-14. CPA offers Parent Information Sessions for Kindergarten, Elementary, Middle and High School Parents who would like to know more about the Academy. If you know of a family interested in CPA for their child, please offer an invitation to these sessions.
Prospective Kindergarten Parent Information Sessions:

Wednesdays, 10-11:30 a.m.
October 3, 31
November 14
Prospective Elementary Parent Information Sessions:
Tuesdays, 10-11:30 a.m.
September 18
October 9
November 6
January 22
February 5
March 5
Prospective Middle and High School Parent Information Sessions:
Thursdays, 9-11 a.m.
September 27
October 18
November 1
November 29
December 6
January 10
January 17
February 14
March 21

To register for a session, parents may call (615) 301-3623.
---
Elementary Family Tailgate: Fri., Sept. 21
On Friday, September 21, PSF will host an Elementary Tailgate Party (for preschool through fifth-grade families) before the CPA home football game. Stay tuned for more details!
---
Middle School Mother/Son Bowling: Sat., Sept. 8
The Middle School Mother/Son Bowling event is open to all middle-school boys and their moms, grandmas, aunts or special ladies. The bowling will take place Saturday, September 8, 3:45–6 p.m. at Franklin Lanes, 1200 Lakeview Drive, Franklin 37067.
---
CPA Homecoming 2012: Fri., Sept. 28
Friday, September 28, is Homecoming at the Academy, where we will welcome back the members of our CPA alumni community! This will be a great time for alumni-community members to reconnect with one another...and see some of their favorite CPA teachers. The Alumni Community Homecoming Tailgate will begin at 5:30 p.m. on the CPA Softball Field. The Lions football team will host the East Literature Eagles at 7 p.m. in the Den (Athletic Stadium). Alumni will be admitted to the game free-of-charge with a CPA Alumni Season Pass (available for pick-up at the tailgate). Note: Class of '02 members, please email for 10-yr reunion information.
---
CPA Lions Golf Classic, Mon., Oct. 8
Golfers, mark your calendars for the 2012 CPA Lions Golf Classic on Monday, October 8. The classic will be held at Westhaven Golf Club. For more information or to register online, contact Tonya Stout in CPA Athletics by calling (615) 301-3573 or by emailing .
---
Fine Arts Updates
Middle-School Drama Club 2012-2013
Interested in acting? Designing? Directing? Drama Club is a place where students get to explore all of that and more! Join the group (no experience necessary!) with after-school activities in theatre games, comedy improv, audition tips, scenes and monologues. Each year, the club attends a show in the city and serves at a local organization. (Last year's service was at Y.E.S. playing theatre games with the after-school program for underprivileged elementary students.) Start-up is after Willy Wonka Junior and Fall Break. Sixth-Grade Drama Club begins Monday, October 22, and meets each Monday from 3-4 p.m. Seventh- and Eighth-Grade Drama Club begins Thursday, October 18, and meets each Thursday from 3-4 p.m. Club fee is $30. Both clubs meet in the Middle School theatre/dance room. For more information, contact Ms. Jennings at .

Middle-School Art Club
Art Club is a great time to join friends after school, use your creativity, and delve into new projects with paint, colored pencils, pen-and-ink, and sculpture materials. Open to all students in grades 6-8, Art Club will also feature special workshops with professional artists, and opportunities to encourage others with your creativity. Come to the Art Room on Tuesday afternoons from 3-4 p.m. Club supply fee is $30 per semester. For more information, contact Ms. McFadden at .
Coffeehouse Theatre: The Hipster Edition

CPA Thespians present: Coffeehouse Theatre: The Hipster Edition.
Thursday, September 13 and Saturday, September 15 at 7 p.m. in Fellowship Hall. Tickets ($10 adults, $5 students) and may be purchased at the Lower ES, MS and HS reception desks. Season Ticket subscribers may pick up their tickets and choose their reserved seats at the Fine Arts Suite of the HS building.
---
PSF Priority
Pause to Pray Verse for Monday,

At noon each Monday, we encourage the CPA community to Pause to Pray. Monday's verse is from James 1:22:
"Lord, do not let (child's name) merely listen to the Word, and so deceive himself/herself; but let them do what it says."
---
Roar Store Item of the Week: Lion Pride T-shirts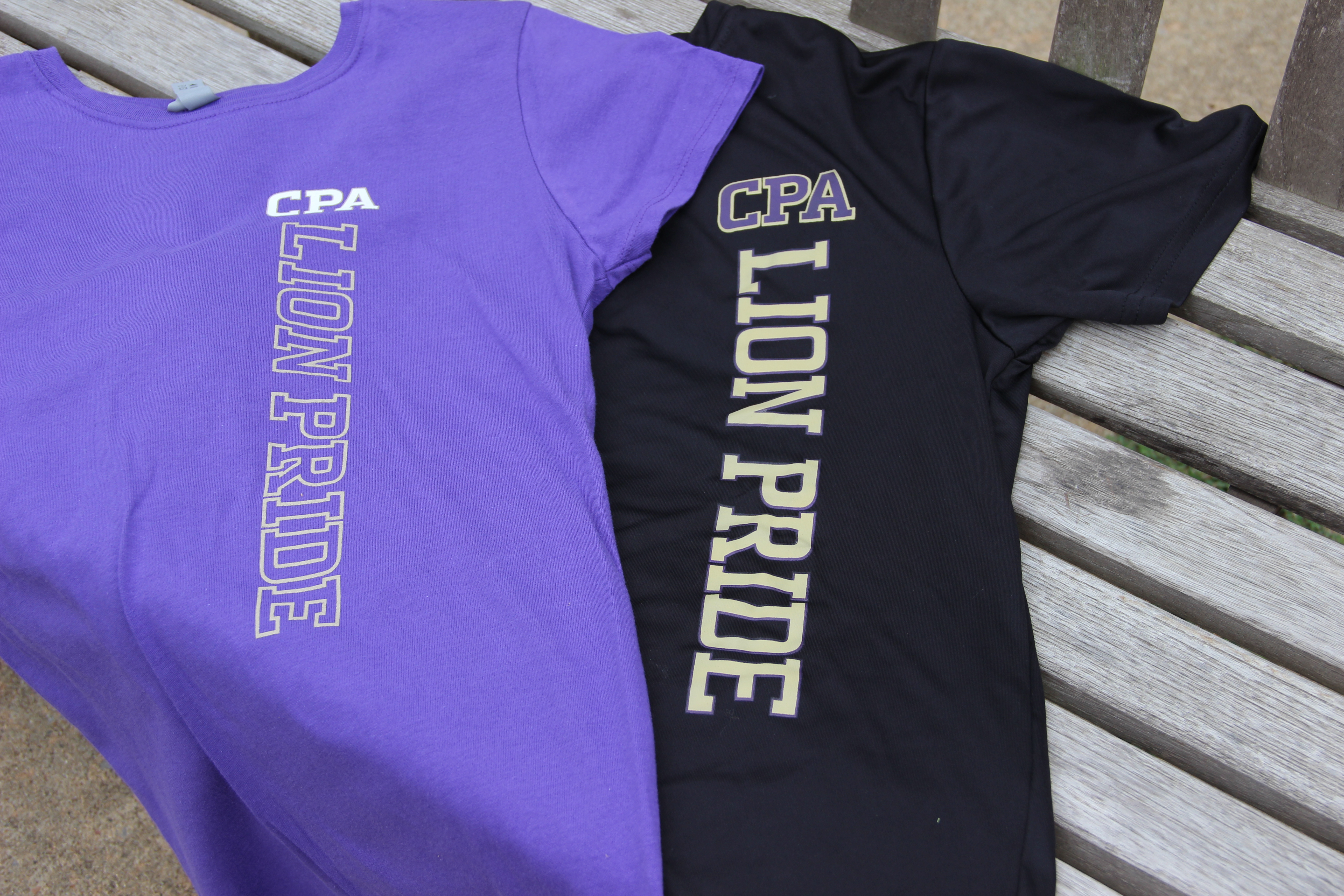 Stop by the Roar Store on the first floor of the Middle School building to see the new Lion Pride T-shirts available for $15 each. The purple shirt comes in sizes for girls and women; the black T-shirt is available in youth sizes only.
---
CPC Corner
If your family is looking for a church home, we would welcome you as our guest at CPC. Please visit christpres.org for Sunday classes, worship times and other info.
Beginning on Sunday, September 9, CPC will move to two services. The first service will begin at 9 a.m. and will be followed by the 10:45 a.m. service. For more details, please visit christpres.org.

---
Athletics: Schedule & Updates
CPA Football Airing On 560 AM Radio This Fall
CPA's home and away football games will air on Sports Radio 650-WNSR this season, with Nashville sportscasters Thom Abraham and Al Smith handling the play-by-play and commentary. Fans will be able to tune into the radio or "Listen Live" online to each Lions' game at www.wnsr.com.
Upcoming Athletic Events:
September 3:

JV Football vs. Ravenwood @ Ravenwood, 7 p.m.
September 4:
HS Boys' and Girls' Golf vs. Greenbriar @ Oak Hills Golf Course, 2 p.m.
Varsity Girls' Soccer vs. Nashville Christian @ CPA, 4 p.m.
MS Volleyball Gold Team vs. PGS @ CPA, 4 p.m.
MS Volleyball Purple Team vs. PGS @ CPA, 5:30 p.m.
MS Volleyball White Team vs. PGS @ CPA, 6 p.m.
September 5:

JV Girls' Volleyball vs. Lipscomb, 3:30 p.m.
MS Girls' Golf @ Spencer Creek, 4 p.m.
Varsity Girls' Volleyball vs. Lipscomb, 4:30 p.m.
September 6:

HS Boys' and Girls' Golf vs. Greenbriar & Creekwood @ Montgomery Bell, 3:10 p.m.
MS Girls' Golf vs. St. Matthew @ Percy Warner, 3:30 p.m.
7th Grade Football vs. Brentwood Academy, 4 p.m.
MS Boys' Golf vs. St. Matthew @ Westhaven, 4 p.m.
MS Volleyball Gold Team @ Hillsboro High, 4 p.m..
MS Cross Country Meet @ Vaughn's Creek
Varsity Girls' Soccer vs. Goodpasture @ Goodpasture, 4:30 p.m.
MS Volleyball Purple @ Hillsboro High, 5:30 p.m.
MS Volleyball White Team @ Hillsboro High, 6 p.m.
8th Grade Football vs. Brentwood Academy, 5:30 p.m.
September 7:

MS Volleyball White Team vs. USN @ CPA, 4 p.m./5 p.m.
Varsity Volleyball vs. Nashville Christian @ CPA, 4:30 p.m.
Varsity Football vs. Lancaster Christian School @ CPA, 7 p.m.

September 7-8:

JV Volleyball Brentwood Tournament @ Brentwood High School, TBA

September 8:

Varsity Cross Country Beech Cross Country Invitational @ Hendersonville, TN, 10:45 a.m.
Varsity Girls' Volleyball vs. USJ & Milan @ University School of Jackson, TBA