News highlights, upcoming events and reminders for the CPA community.
August 17-24, 2012
---
Faculty & Staff Birthdays
Happy birthday to Tamsyn Dreps (8/18), Lisa Hardin (8/22), Stephanie NeSmith (8/21) and Jamie Lynch (8/23).
---
Parking/Waiting On Campus: Only in Designated Areas
CPA families, with the start of school and the beginning of multiple events on campus, please remember to park only in designated spaces in our lots, not on curbs or on the grass, and especially not in handicapped spaces without a permit. If you are waiting for a child, please do so only in specified carpool lanes or parking spaces. We appreciate your patience and cooperation as you navigate drop-off, pick-up and event parking at CPA.
---
Signs of the Times
CPA welcomed our new families this school year by presenting each with a special yard sign. The signs were a big hit with students, parents and even neighbors.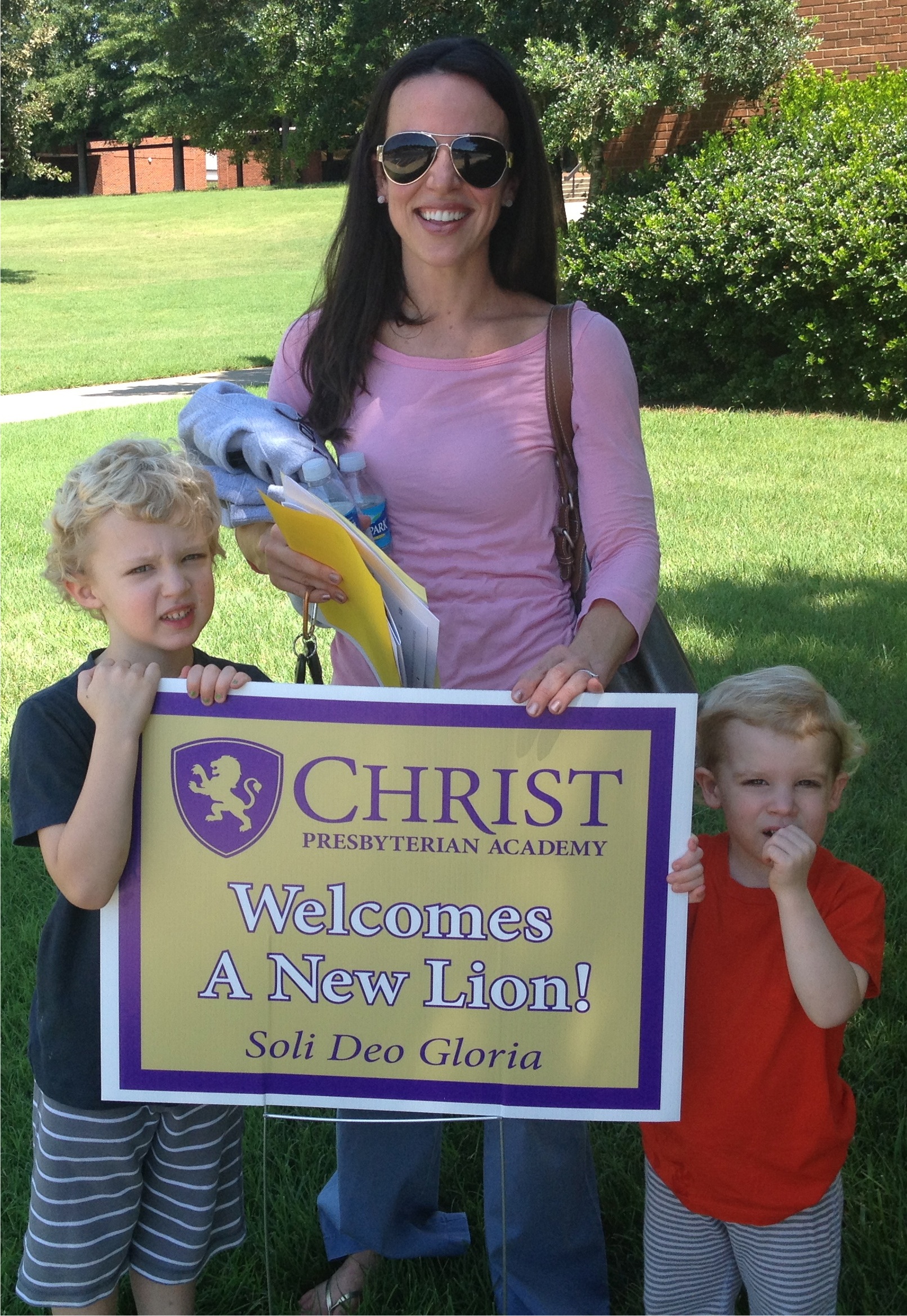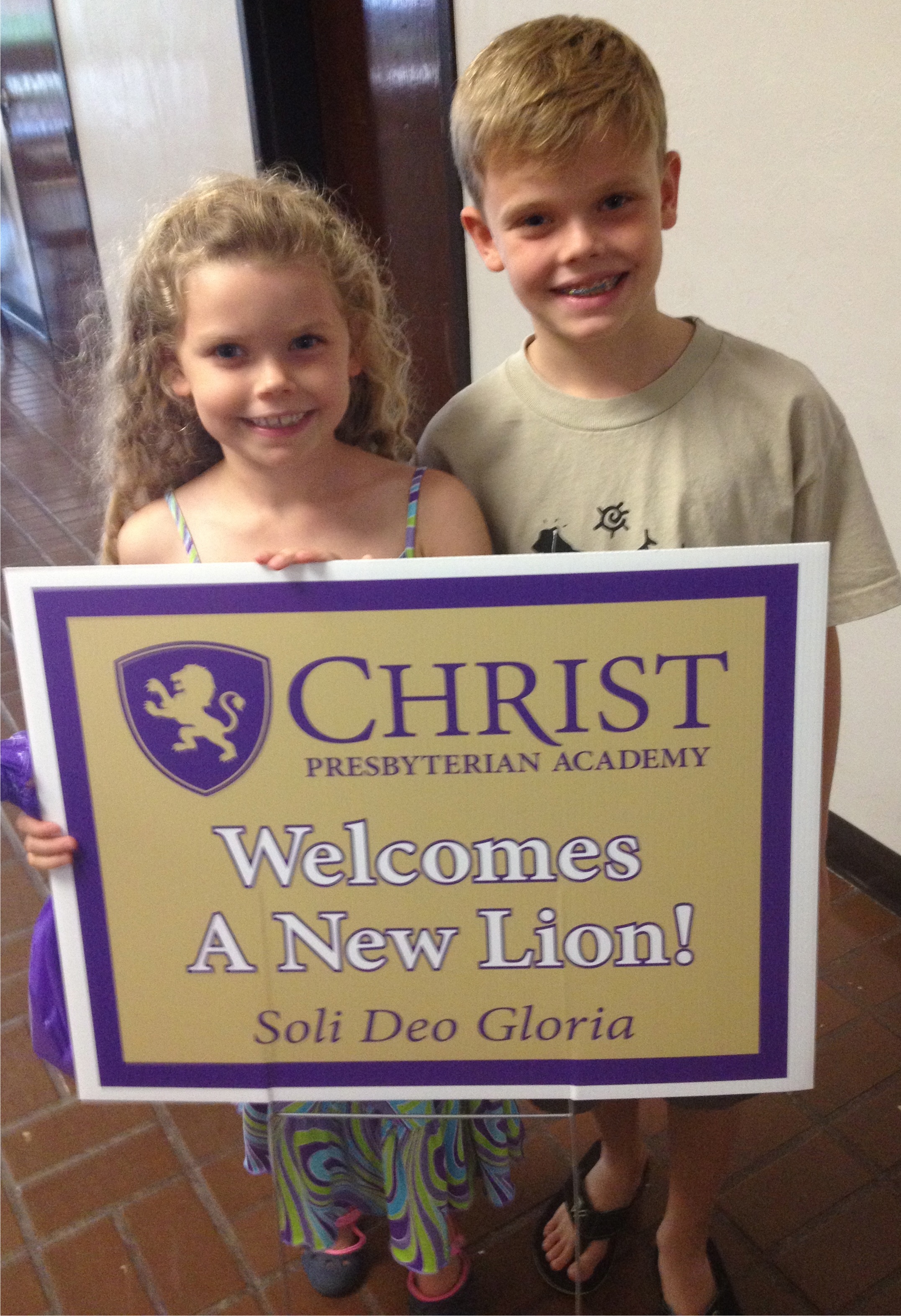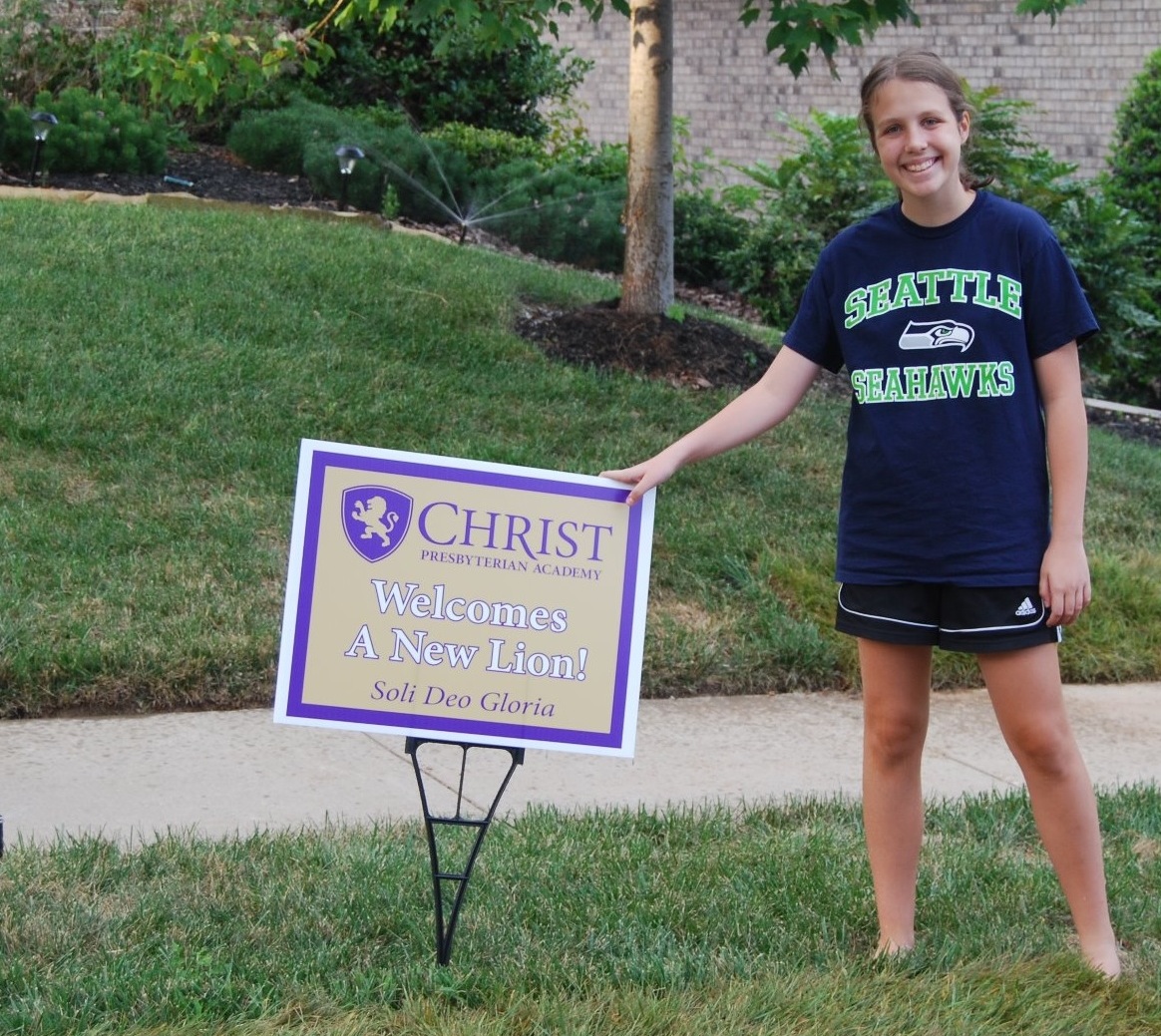 ---
Welcome Home "DEN-ner": Friday, Sept. 7
Friday, September 7, 2012, is the date for our special tailgate dinner for all CPA families. This is an annual community event before the first home football game, with an extra-special welcome to new families. To register online, please click HERE.
---
Four Houses Introduced to CPA High School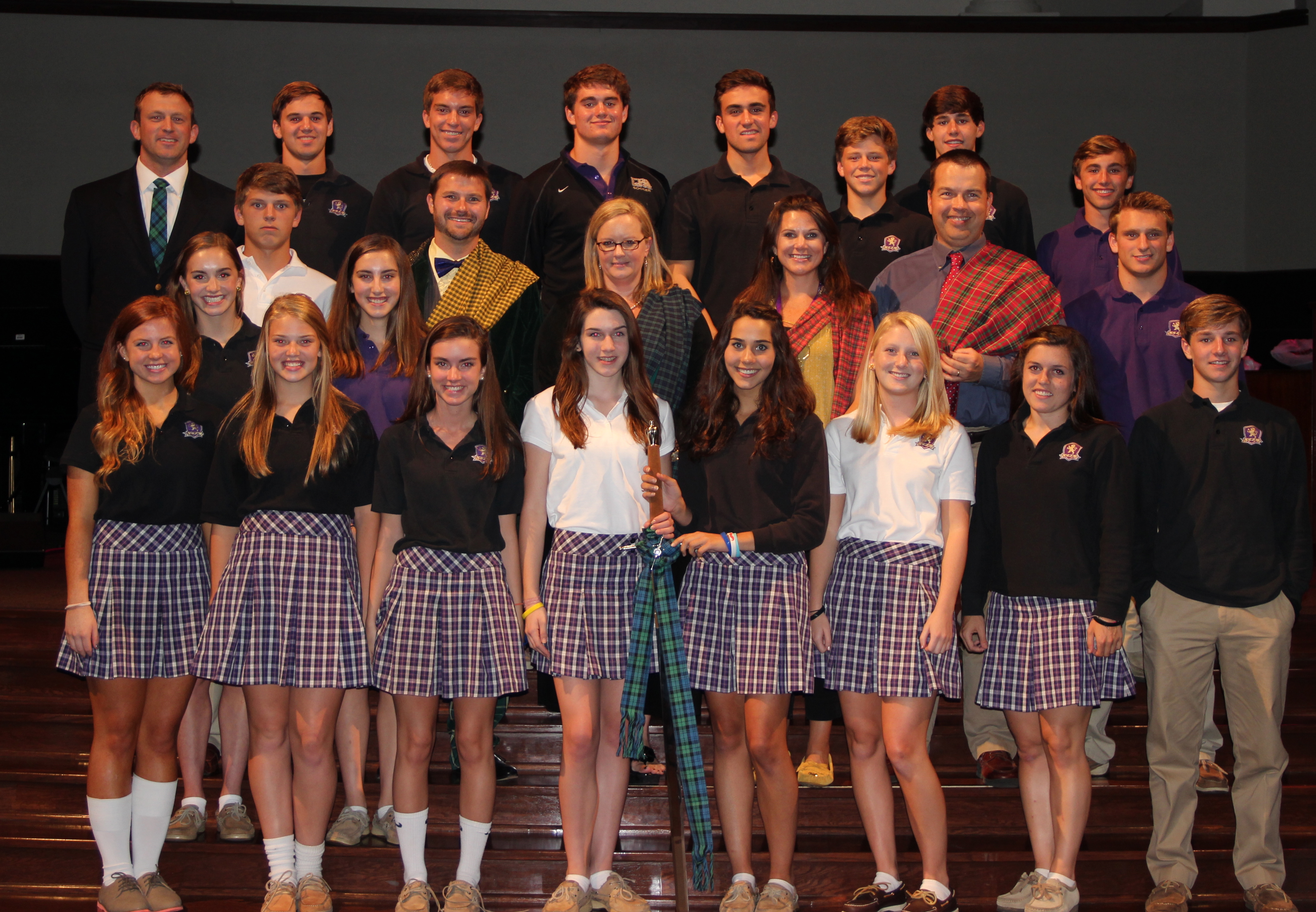 On Tuesday afternoon, with great excitement and enthusiasm, Student Government Association and CPA High School Administration introduced the concept of "houses" in the long, storied tradition of British academia and Scottish clans.
SGA leaders and Nate Morrow developed the concept over the summer, with input and approval from administrative leadership, members of the faculty, and the Board of Trustees.
The "house" concept is a largely British model of grouping students across grades 9-12 in an effort to build community, improve school spirit, facilitate mentoring by upperclassmen, and establish meaningful traditions. At CPA, it is part of a systematic approach to positively reinforcing the characteristics we want to see cultivated in our students.
Because houses have been popularized in recent years in J.K. Rowling's Harry Potter series, some have asked whether we are introducing a "Harry Potter theme" at CPA. The answer is no. While houses play a central role in the stories and are familiar to many of our students because of that, they were around long before Rowling wrote about them. The houses concept is drawing not on Harry Potter but on the rich, centuries-old tradition of houses as a means to foster a positive, enriching school community.
The four houses are named after four Scottish clans (befitting the Presbyterian heritage in Scotland). Each high-school student has been assigned to one of the four houses. Siblings are grouped together in the same house and each house has a designated hallway.
The Four Houses of CPA High School (name/color/motto):
Barclay (yellow). Motto: Aut agere aut mori (Action or death)
MacKinnon (red). Motto: Audentes fortuna juvat (Fortune favors the bold)
Sutherland (blue). Motto: Sans Peur (Without Fear)
Wallace (black). Motto: Pro libertate (For Freedom)
As the school year unfolds, each house will engage in activities together and in healthy competition with the other houses, leading to the presentation of a very special new honor to one house: the Anderson Cup, in honor of our headmaster.
---
Middle-School

Parent

Night

: Tuesday, Aug. 28, 7 p.m.
MS Parent Night will take place Tuesday, August 28, at 7 p.m. in the Varsity Gym. Please arrive by 6:45 p.m. to pick up your student's class schedule before we get started. To pick up your packet, please follow these directions for entrance to the middle school: Sixth-grade parents enter at the upper ramp and pick up your packet by the administrative offices. Seventh-grade parents enter at lower doors to concession stand lobby and pick up packet. Eighth-grade parents enter the Varsity Gym to pick up packet.
Our administration and teachers look forward to spending a wonderful evening with you and discussing the exciting things that God is doing this year at CPA Middle School.
---
CPA Offers Parent Information Sessions for Prospective Families
Prospective families are already inquiring about admission for 2013-14. CPA offers Parent Information Sessions for Kindergarten, Elementary, Middle and High School Parents who would like to know more about the Academy. If you know of a family interested in CPA for their child, please offer an invitation to these sessions.
Prospective Kindergarten Parent Information Sessions:

Wednesdays, 9:45-11:30 a.m.
October 3, 24
November 14
Prospective Elementary Parent Information Sessions:
Tuesdays, 10-11:30 a.m.
September 18
October 9
November 6
January 22
February 5
March 5
Prospective Middle and High School Parent Information Sessions:
Thursdays, 9-11 a.m.
September 27
October 18
November 1
November 29
December 6
January 10
January 17
February 14
March 21

To register for a session, parents may call (615) 301-3623.
---
Elementary Family Tailgate: September 21
On Friday, September 21, PSF will host an Elementary Tailgate Party (for Preschool through fifth-grade families) before the CPA home football game. Stay tuned for more details!
---
Fine Arts Updates
Willy Wonka Jr. **Callback Time Change**

Due to several CPA sports conflicts, Willie Wonka Junior callbacks on Thursday, August 23, will begin slightly later than previously announced. Callbacks are from 6 p.m. - 8 p.m. Auditions begin Monday, August 20; for details, students may stop by Room 214 and talk with Ms. Carrie Jennings. Note: Callbacks are not an indication of casting. A student might not be called back and still be cast, or may be called back and not be cast. Callbacks are a vital part of auditions, and we want everyone to be aware of the audition process. Thank you!
Middle-School Drama Club 2012-2013
Interested in acting? Designing? Directing? Drama Club is a place where students get to explore all of that and more! Join the group (no experience necessary!) with after-school activities in theatre games, comedy improv, audition tips, scenes and monologues. Each year, the club attends a show in the city and serves at a local organization. (Last year's service was at Y.E.S. playing theatre games with the after-school program for underprivileged elementary students.) Start-up is after Willy Wonka Junior and Fall Break. Sixth-Grade Drama Club begins Monday, October 22, and meets each Monday from 3-4 p.m. Seventh- and Eighth-Grade Drama Club begins Thursday, October 18, and meets each Thursday from 3-4 p.m. Club fee is $30. Both clubs meet in the Middle School theatre/dance room. For more information, contact Ms. Jennings at .

Middle-School Art Club
Art Club is a great time to join friends after school, use your creativity, and delve into new projects with paint, colored pencils, pen-and-ink, and sculpture materials. Open to all students in grades 6-8, Art Club will also feature special workshops with professional artists, and opportunities to encourage others with your creativity. Come to the Art Room on Tuesday afternoons from 3-4 p.m. Club supply fee is $30 per semester. For more information, contact Ms. McFadden at .
---
CPA Friends Support Will NeSmith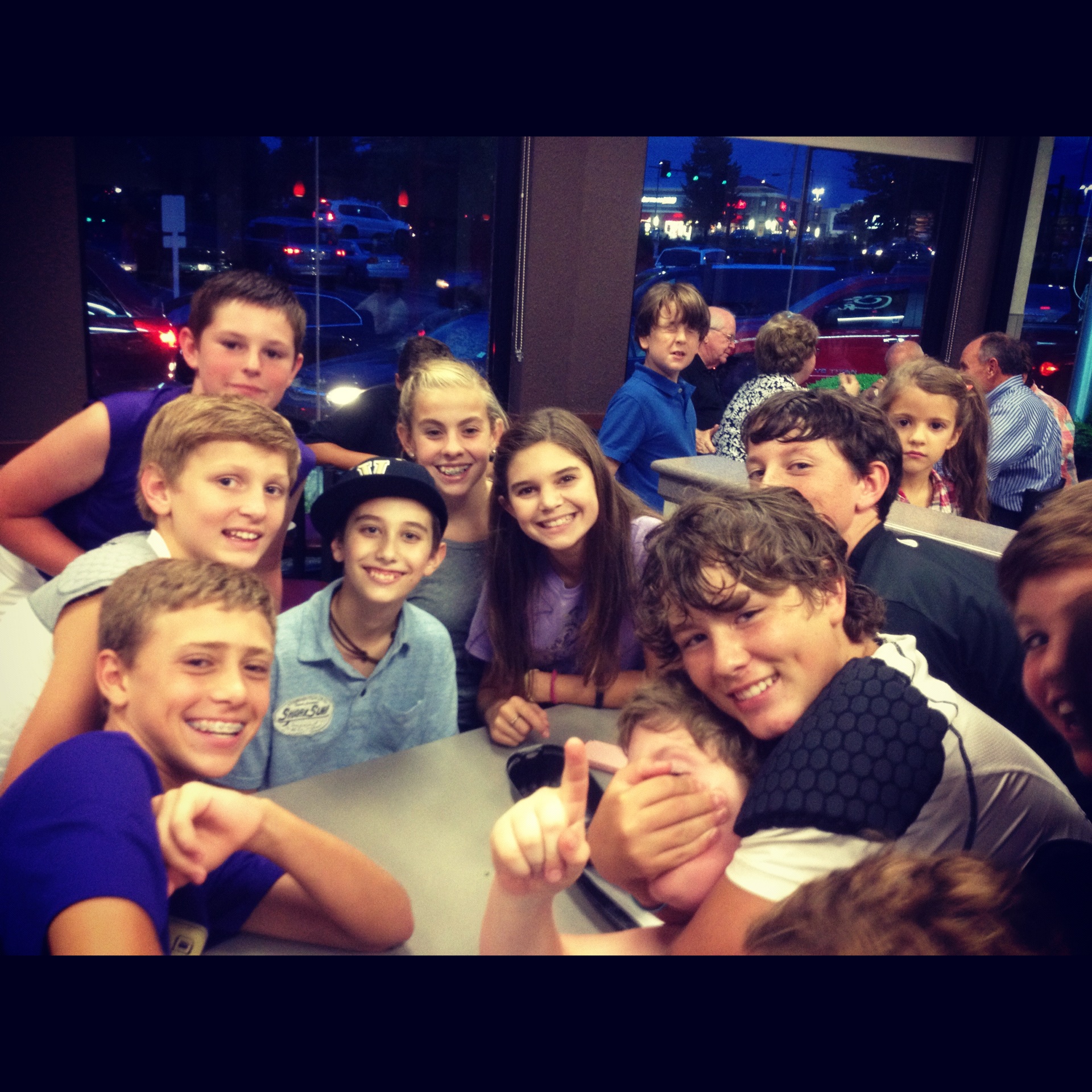 Many friends and loved ones of seventh-grader Will NeSmith streamed into Chick-fil-A in Cool Springs on Thursday evening for a "Spirit Night" in support of Will and to help defray some of his rehabilitation costs. It was a joy for many of Will's CPA buddies to see him for the first time since the end of last school year, and for many others to encourage Will's parents, Steve and Stephanie (who is one of our CPA Middle School teachers). If you're on Facebook, search "Praying for Will NeSmith" for more details.
---
PSF Priority
Pause to Pray Verse for Monday, Nehemiah 1:11

At noon each Monday, we encourage the CPA community to Pause to Pray. Monday's verse is from Nehemiah 1:11: "Oh Lord, let your ear be attentive to the prayer of your servants who delight in revering your name."
---
Roar Store Item of the Week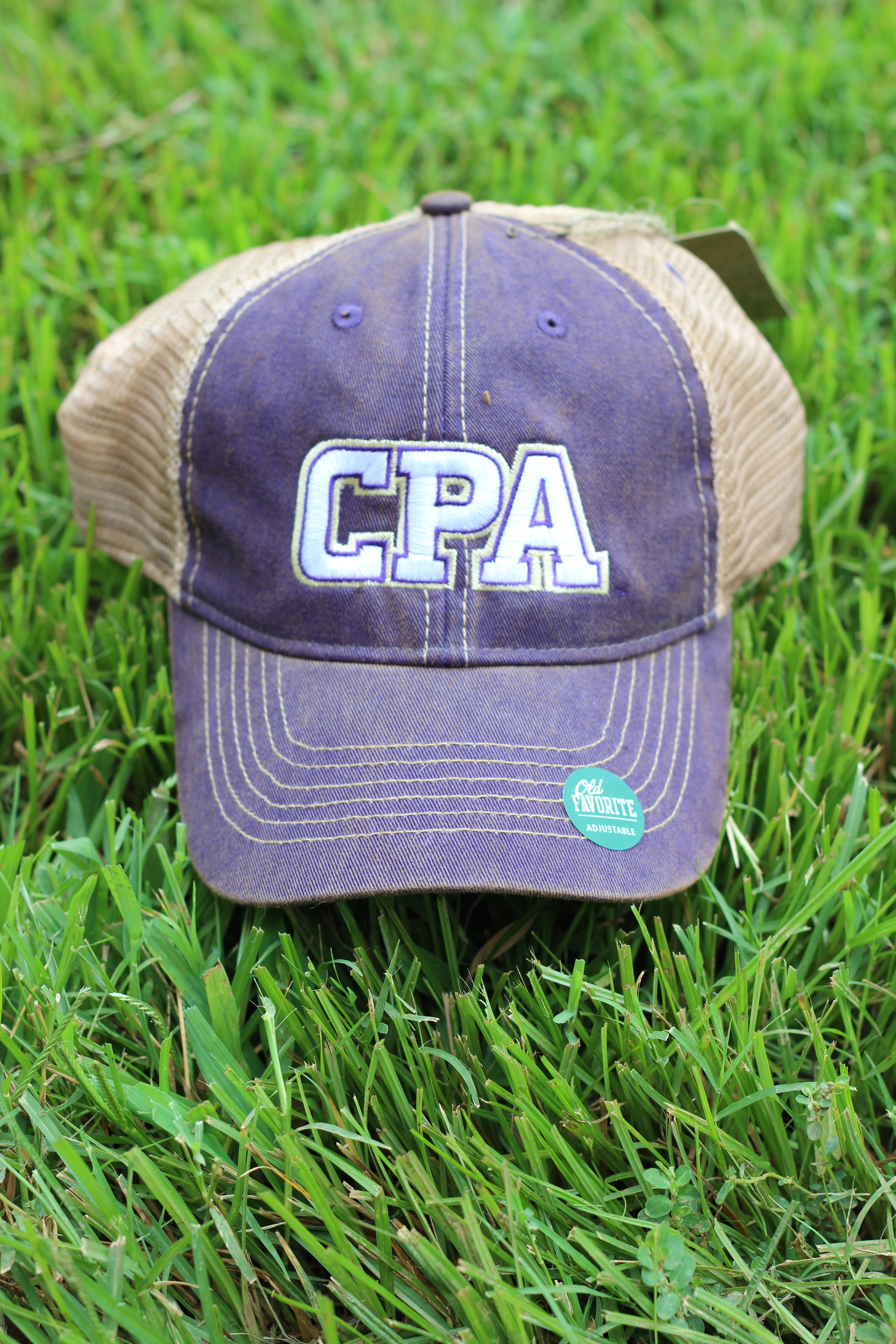 Stop by the Roar Store on the first floor of the Middle School building to see our new CPA Legacy hats that are JUST IN! The hats are available exclusively in the Roar Store for $20. Get one while you can!
---
CPC Corner
If your family is looking for a church home, we would welcome you as our guest at CPC. Please visit christpres.org for Sunday classes, worship times and other info.
Join us for CPC's Party on the Lawn at noon on Sunday, August 26. The festivities will begin immediately following the 10:45 Worship Service, with live music, local food trucks and an All-Meat Grill Off. For more details, please visit christpres.org.
---
Athletics:
CPA Football Airing On 560 AM Radio This Fall
CPA's home and away football games will air on Sports Radio 650-WNSR this season, with Nashville sportscasters Thom Abraham and Al Smith handling the play-by-play and commentary. Fans will be able to tune into the radio or "Listen Live" online to each Lions' game at www.wnsr.com. 560 also plans to broadcast some CPA basketball games this winter. Stay tuned for more details.
Upcoming Athletic Events:
August 17:
Varsity Football vs. Goodpasture @ Goodpasture, 7 p.m.
August 20:
J.V. Football vs. Lipscomb @ CPA, 4:30 p.m.
Girls' Varsity Volleyball @ Goodpasture, 5 p.m.
August 21:
MS Volleyball (White Team) vs. Donelson Christian Academy, 6 p.m.
Girls' Varisty Soccer vs. Independence @ CPA, 7 p.m.
August 22:
HS Boys'/Girls' Golf vs. East Literature @ Shelby
Girls' Varsity Volleyball vs. Ensworth @ CPA, 4:15 p.m.