News, upcoming events and reminders for the CPA community.
for April 15-22, 2012
---
From the Headmaster: Not A Single One
"God loves each of us as if there were only one of us." — Saint Augustine

"Not one...not a single one. I didn't miss a single one." — Elementary student

"But he was pierced for our transgressions, he was crushed for our iniquities; the punishment that brought us peace was upon him, and by his wounds we are healed. All we, like sheep, have gone astray, each of us has turned to his own way; and the Lord has laid on him the iniquity of us all." — Isaiah 53:5-6

The story is told of an elementary student who was struggling socially. Try as he might, the boy just couldn't seem to make friends. He was never chosen for a team at recess. He always seemed to be the one left out. He came home day after day, downcast after another day of rejection. Valentine's Day was approaching. His mother was worried. She knew that he would "stick out like a sore thumb" on a day designated for people to reach out to one another. He was very busy in the days before Valentine's Day. He worked feverishly, cutting, pasting and creating works of art. He then took a shoebox, wrapped it in red construction paper, cut a hole in the top, and headed to school on Valentine's Day. That afternoon, his mother waited anxiously for the school bus to arrive. He came through the door, shoebox tucked under his arm. As he entered the house, he uttered these words: "Not one...not a single one..." His mother's heart sank. She looked in his shoebox. It was empty. She could hardly bring herself to look at his countenance. But when she did, he was beaming. He said again, "Not one...not a single one…" But then he finished his thought: "I didn't miss a single one. I made a Valentine for every boy and girl in my class. I gave them all out...I didn't miss a single one."
On Good Friday, Cindy and I rented the movie, The Passion of the Christ. This was, of course, the Mel Gibson depiction of Maundy Thursday/Good Friday/Easter Sunday released in 2004. When it came out, Cindy and I went with some friends to see it. The theater was packed. The movie was riveting then...as it was on Good Friday, 2012. Now, I know you gotta be careful with Hollywood. Heck, you gotta be careful with Mel Gibson. But despite his later woes, I have to believe that, at the time he undertook the project, Mr. Gibson's heart was "right"...he intended for the movie to be a worshipful experience. Watching it the other night, all I could think of was: "Not one...not a single one...His blood did not fail to cover a single one of MY sins which put Him on the cross."
Soli Deo Gloria. To Him who suffered...died...rose...for me...for you. —Richard B. Anderson
---
Faculty & Staff Birthdays
There are no CPA faculty/staff birthdays for the week of April 15-22.
---
All-Academy Basketball Celebration Recap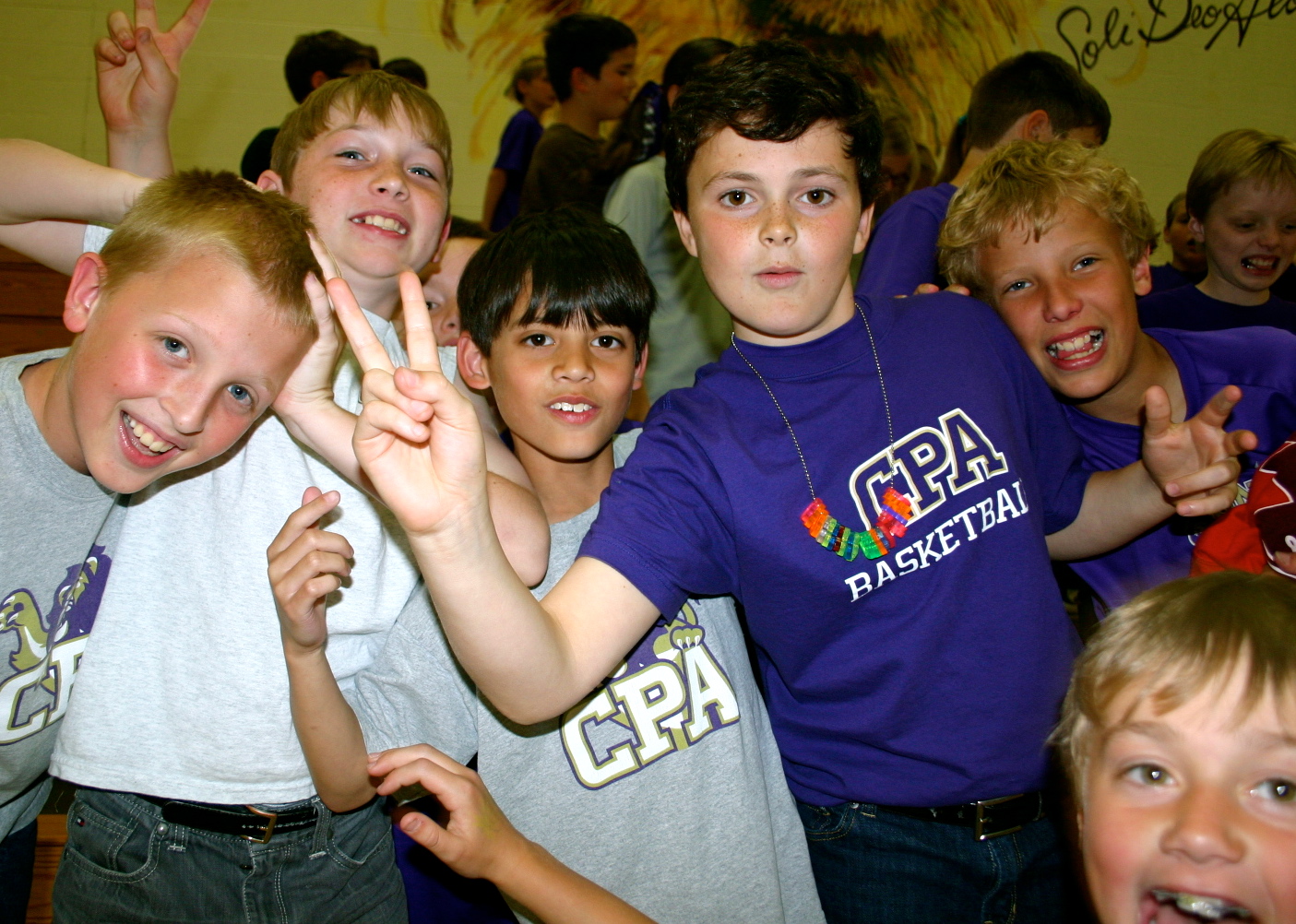 Energetic CPA students participated in a K-12 pep rally on Tuesday, April 10, in the Varsity Gym honoring the accomplishments of our boys and girls state championship basketball teams.
With loud music playing, students filed into the gym ready to celebrate the 2011-2012 state-title teams.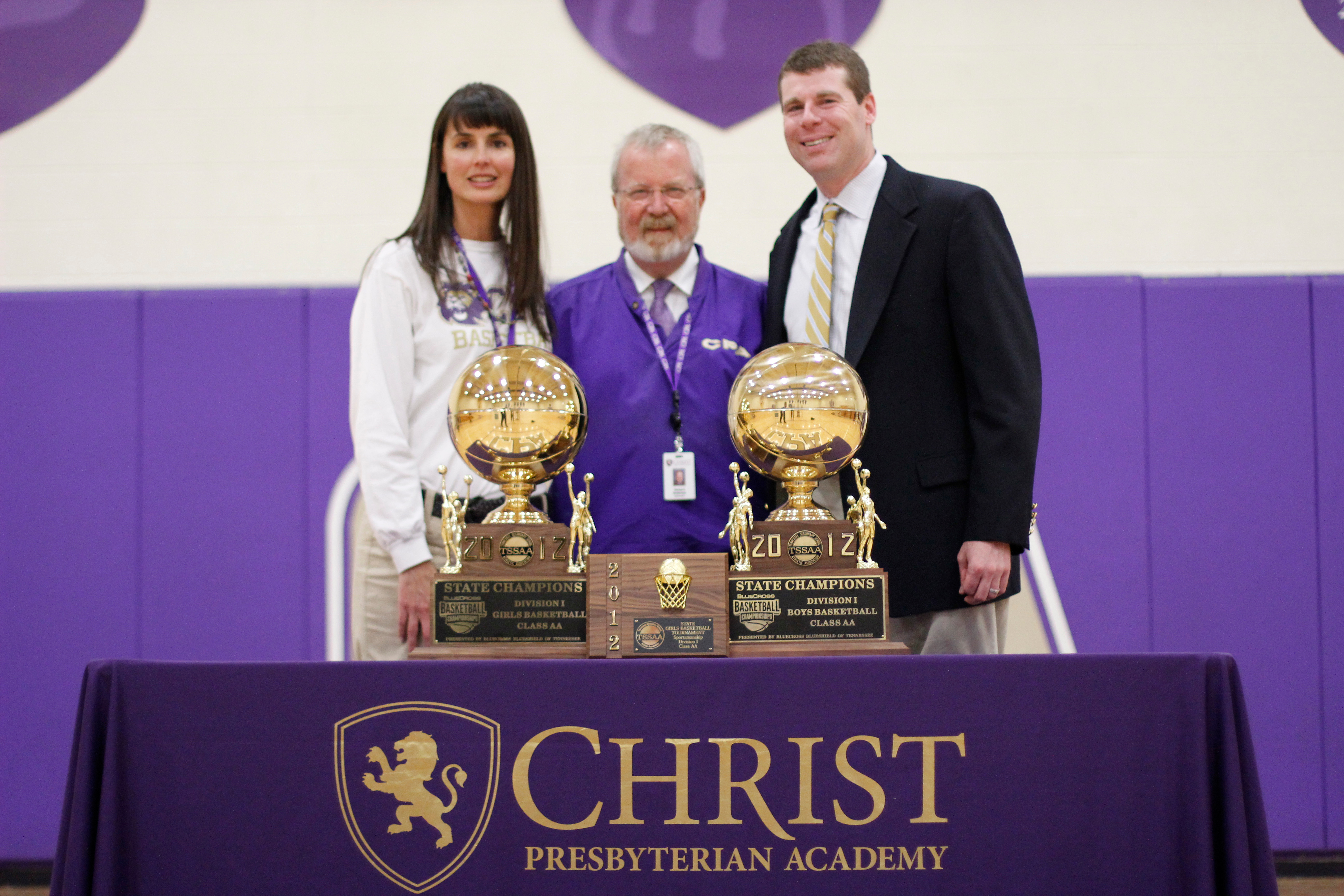 During the pep rally, the cheerleading team presented Mr. Anderson with the sportsmanship plaque that CPA received at the girls' tournament.
Following the cheerleader's presentation, the girls and boys basketball teams presented Mr. Anderson withchampionship trophies. Becky LeGate and Drew Maddux, Varsity Basketball Coaches who each received Coach of the Year awards for season, spoke about what the state championshis meant to the team and the CPA community. A special thanks was given to all the loyal fans and parents who supported both teams throughout the season.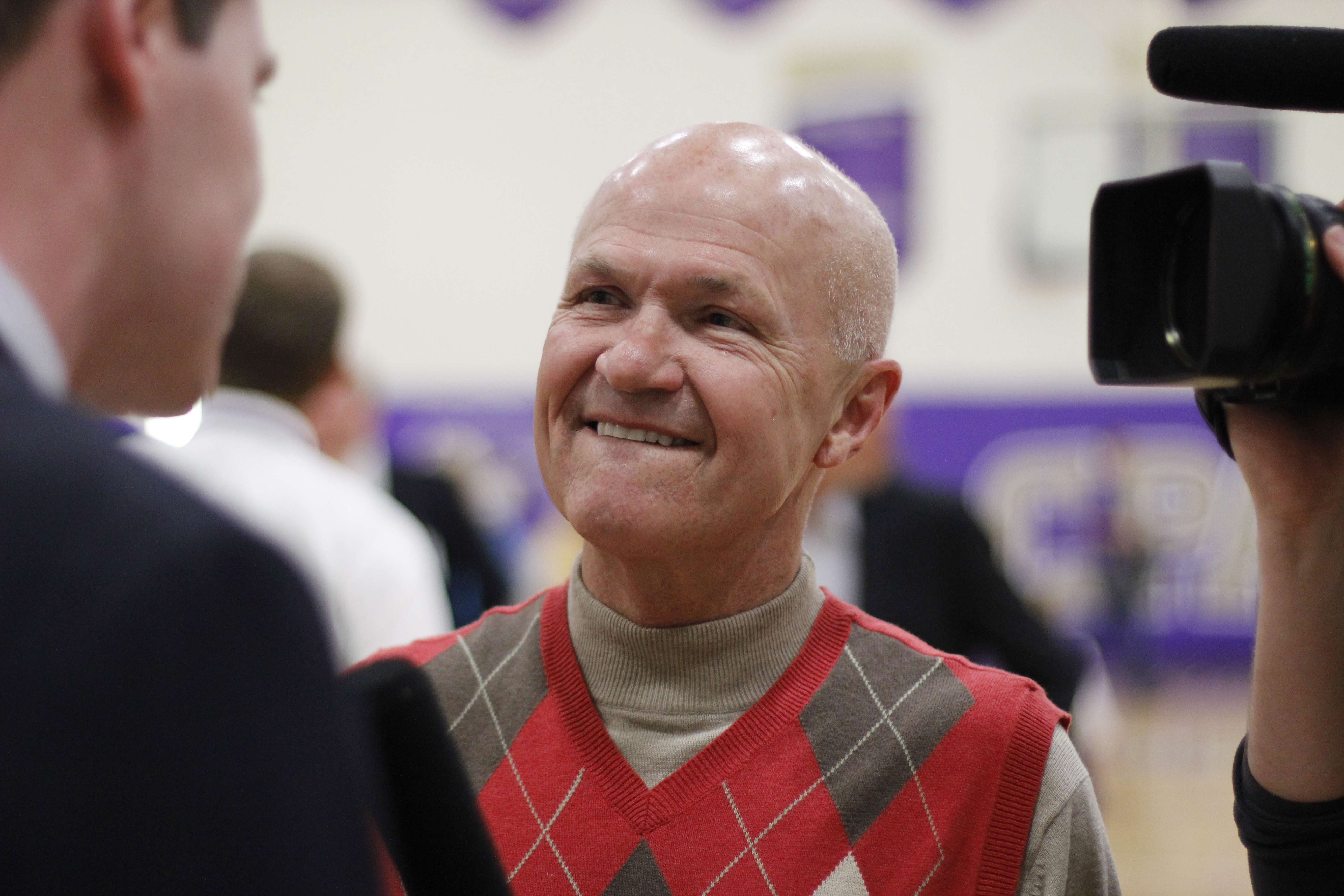 WSMV-Channel 4's Rudy Kalis, a friend of the CPA community, closed the rally by speaking about the opportunity and privilege the girls and boys basketball players now have to direct others to God's glory. Mr. Kalis challanged all of us to "walk the walk" and have the courage to be different, sharing our relationship with Christ to those around us. With the recent victories God has allotted to both teams also comes the opportunity to stand courageously for Christ, pointing others to Him.
To watch a clip of Rudy Kalis' talk, click on the video below.
---
Davis King Signs To Play Baseball At Bryan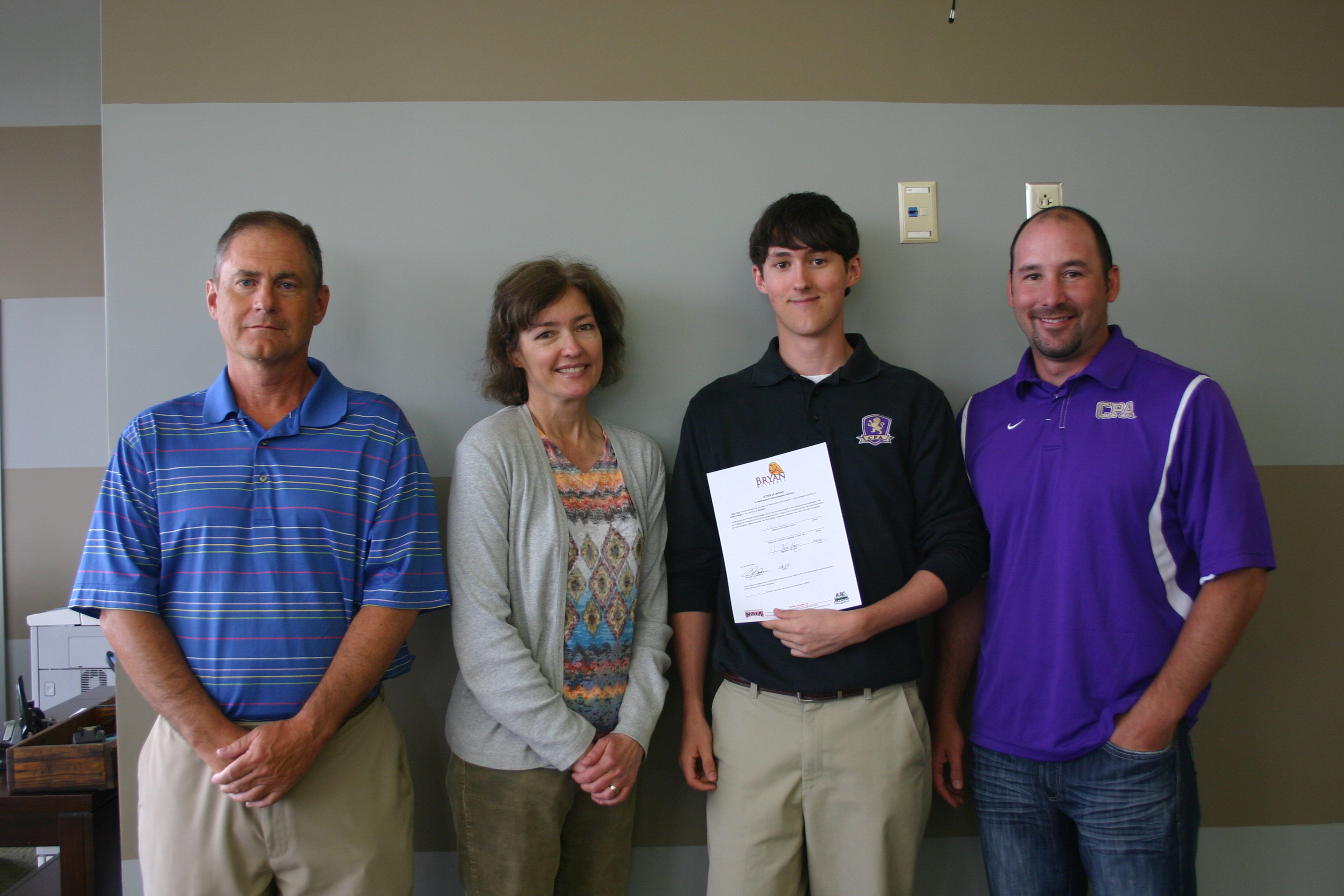 Congratulations to CPA senior Davis King, who signed on Wednesday to attend and play baseball next year at Bryan College in Dayton, Tenn. Davis, a right-handed pitcher, will go from one "pride" of Lions to another, since CPA and Bryan share the same mascot. Way to go, Davis!
---
High School Service Day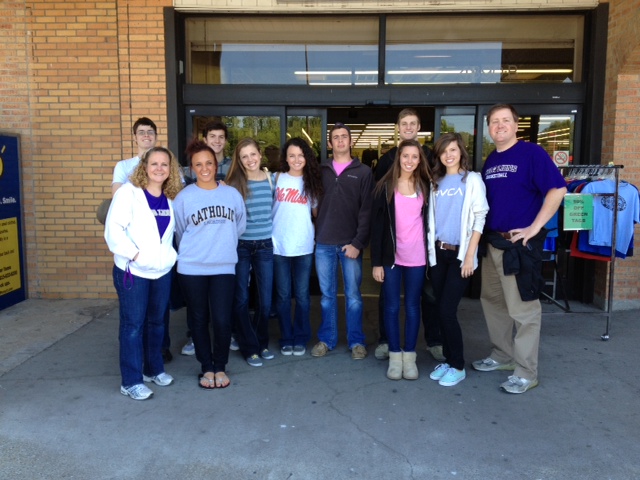 CPA High School students participated in Service Day on Thursday, April 12. One group helped serve our community by sorting through donated clothing at ThriftSmart, a donation center chain based in Middle Tennessee. A big thanks to all high school students who helped various organizations on Service Day!
---
Sixth Grade Science Class Creatures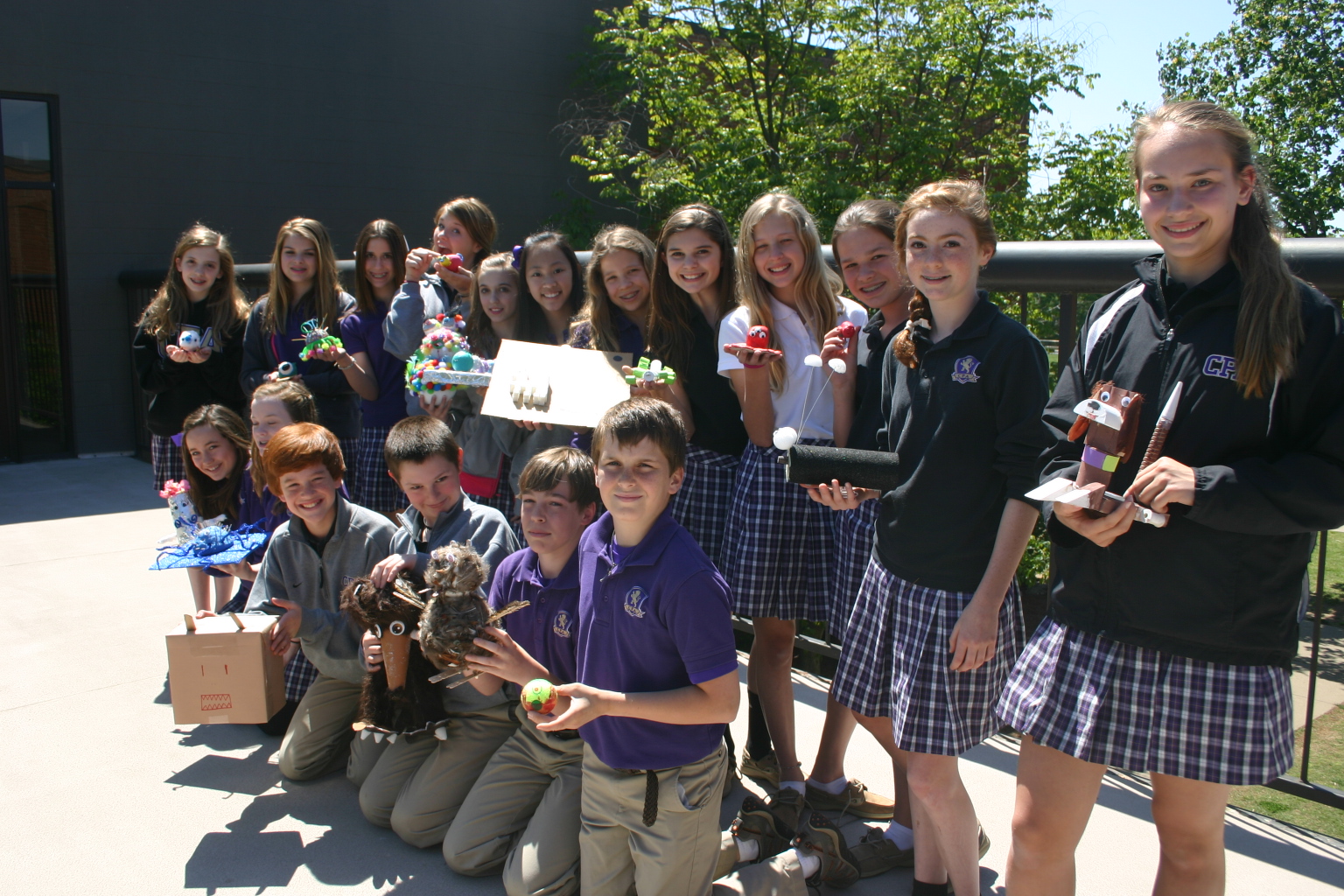 Sixth grade science classes selected a planet in our solar system to study, and after studying the planet's properties, they created a unique animal that would survive under the planet's environmental conditions. The animal's design and features were related to the properties present in each student's planet.
As you can see from the picture, students were quite creative with their animal creations!
---
HS and MS Volleyball Tryouts: May 29-30
Save the date for Volleyball Tryouts, Tuesday, May 29 and Wednesday, May 30. Please see the schedule below.
Middle School Tryout Schedules:
Rising 7th/8th: May 29 and 30, 3 p.m. - 4 p.m.
Rising 6th: May 29 and 30, 4 p.m. - 5 p.m.
High School JV and Varsity Tryouts Schedules:
Rising 9th-12th: May 29-30, 5:15 p.m. - 6:30 p.m.
---
K-5 Grandparents' Day, May 11
All parents, grandparents and special friends are invited to celebrate with us on Friday, May 11, from 9:30 to 11:30 a.m., beginning with a visit to your student's classroom. A Grandparents' Day program will begin at 10:30 a.m. in the Sanctuary, with lunch by reservation from 11:30 to 12:30 p.m. in the cafeteria.
---
K-5 Achievement Testing All Week, April 16-20
K-5 Achievement Testing will take place all week, April 16-20.
---
New Features On cpalions.org
We are excited to announce updates that are now featured on the homepage of cpalions.org. We have added a "Latest News" box (red text), a "Make A Gift to CPA" button, and a live "Twitter" feed to keep our students, faculty/staff, and parents up-to-date on all of the latest happenings at CPA. If you're not already following us on Twitter, please make sure to follow @cpalions. To see the recent updates, click HERE.
---
October Sky's Homer Hickam Speaking April 18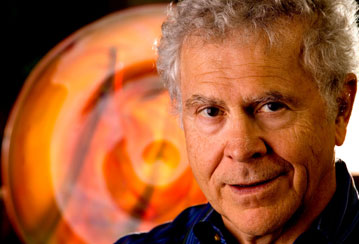 Homer Hickam, the subject of the inspiring 1999 film October Sky, will visit CPA and speak to our students (grades 6-12) on Wednesday, April 18, at 10:45 a.m. We are excited to welcome him to the Academy.
Mr. Hickam is a NASA scientist and a bestselling author whose book Rocket Boys inspired the making of October Sky. His latest book is a young-adult novel set on the moon and titled Crater (Thomas Nelson), "a story of courage from a Christian worldview." To learn more about him, visit here: http://www.homerhickam.com/.
---
2011-2012 Elementary Father/Daughter Hoedown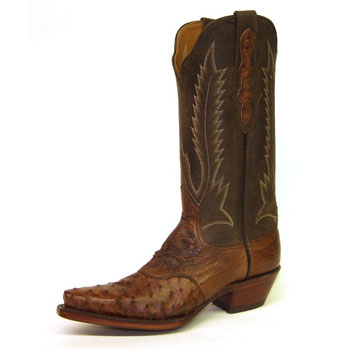 Plan now for a fun, foot-stompin' Hoedown!
When: Friday, April 27, 6 p.m.
Where: The Crews' Barn
Who: Elementary School Girls and their Dad, Grandpa, Uncle or Special Friend!
More details coming soon!
---
CPA/CPC Blood Drive: The Gift of Life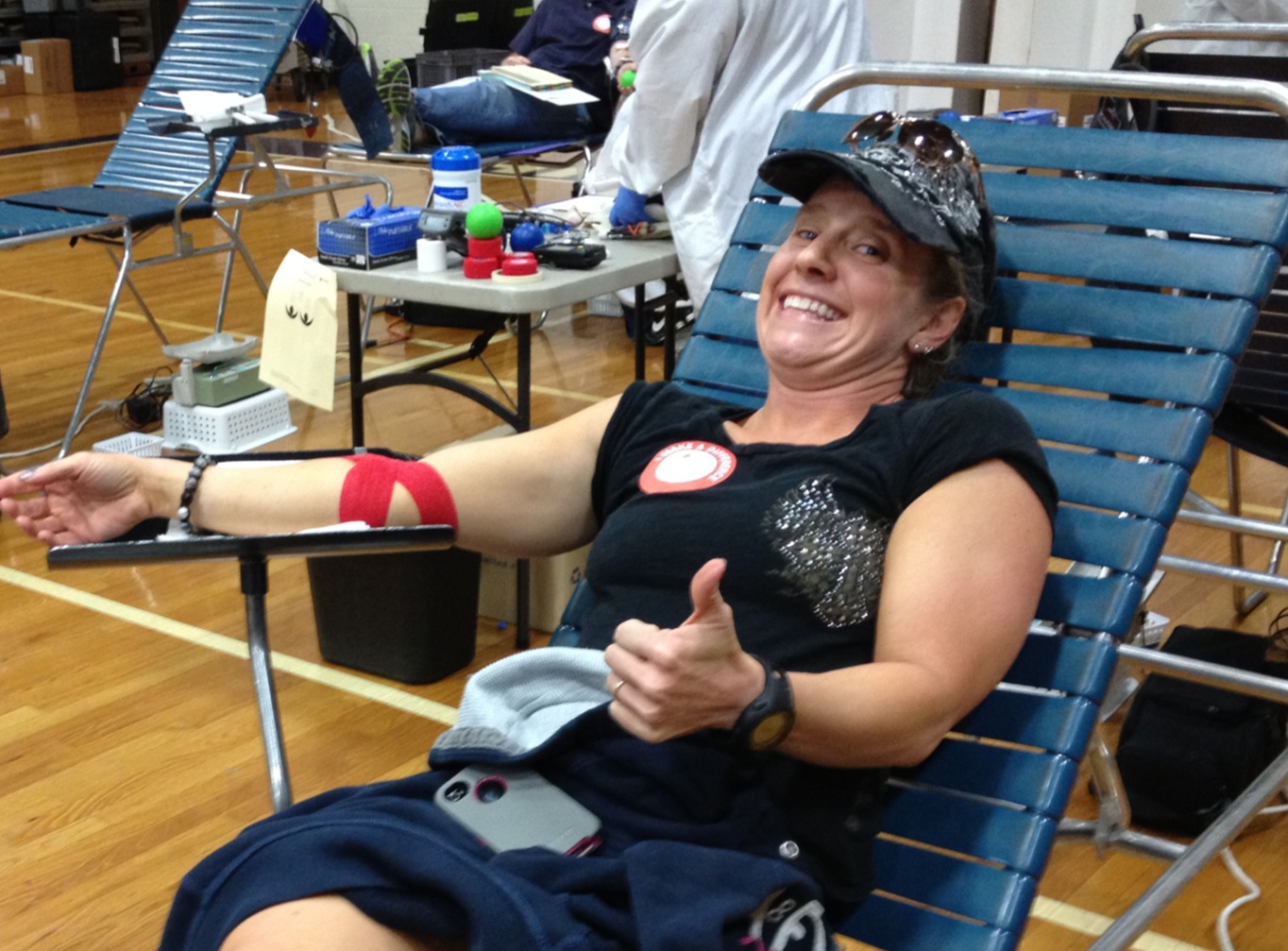 CPC and CPA hosted an American Red Cross Blood Drive on Wednesday, April 11, in the Event Center.
CPA parents Spook Spann and Ginna Durard (pictured) were among the adults and students who donated blood at Wednesday's drive.
Special thanks to those who took part, and to the volunteers (led by Mary Sue Curtis of CPC) who organized the drive. The blood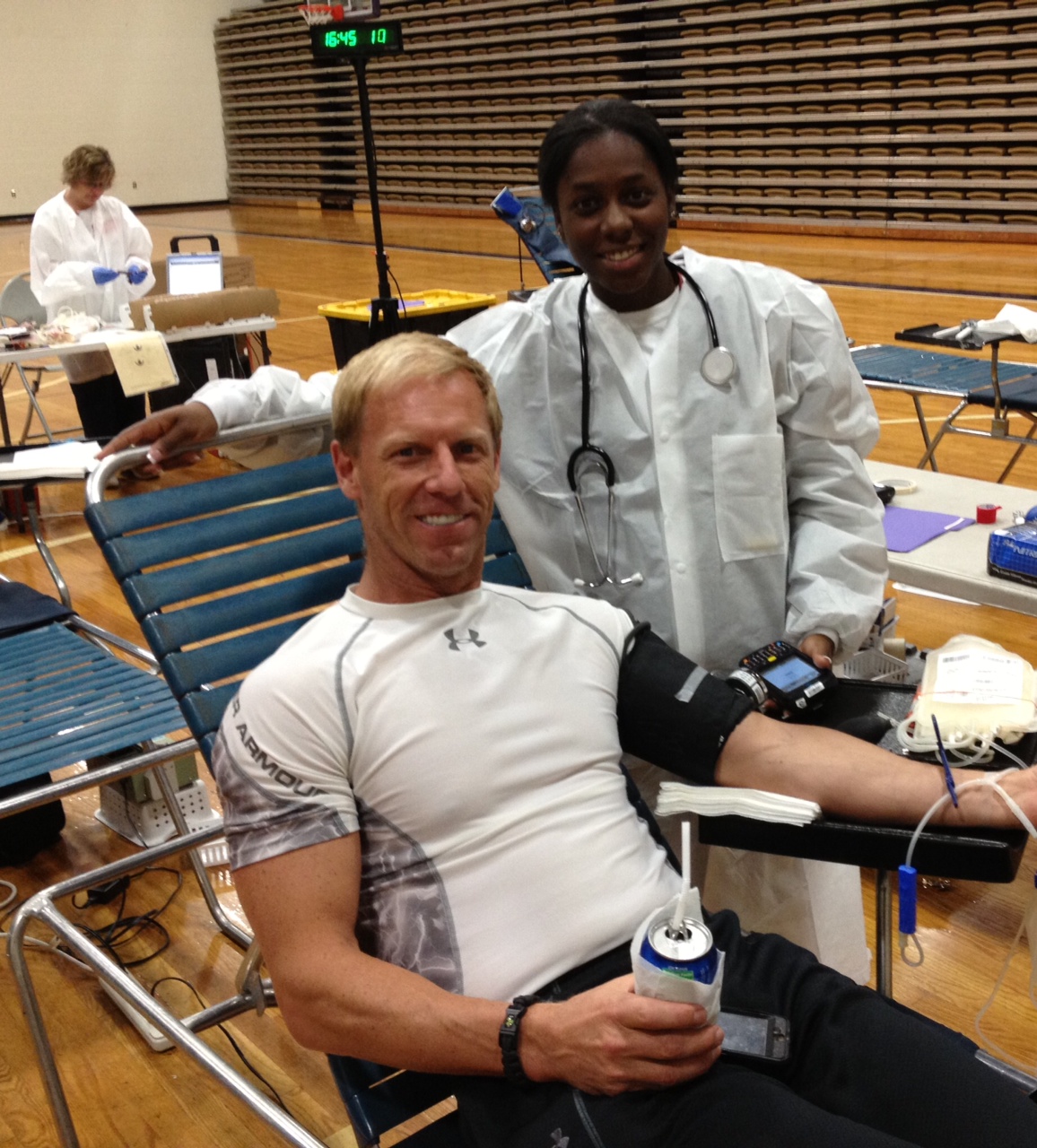 drive reached its goal with 33 pints of blood collected, which will help up to 99 patients who need blood.
---
An Evening with Karen Kingsbury
Join us for an inspiring family night featuring life-changing insights from Karen Kingsbury, a USA Today and New York Times bestselling author and a CPA mom (!), along with energetic music from the group Anthem Lights.
Presented by Christ Presbyterian Academy's Parent Support Fellowship (PSF)

Tuesday, May 1 at 7 p.m. CST, Christ Presbyterian Church Sanctuary (Directions can be found here.)

General admission seating; doors open at 6:30 p.m. Books, CDs and other merchandise will be available for purchase. Karen and the Anthem Lights band members will be available for signing and photos!
Tickets are on sale to the CPA/CPC community at the cost of $5/ticket with a $20 family max. Tickets for the event can be purchased at the reception desks. Tickets will be available to the public beginning on April 16 and will be $10/ticket. Tickets WILL go fast. Tickets will not be available for purchase at the door.
For questions regarding the event, please email .
For more details about Karen, please visit her home page (http://www.karenkingsbury.com/).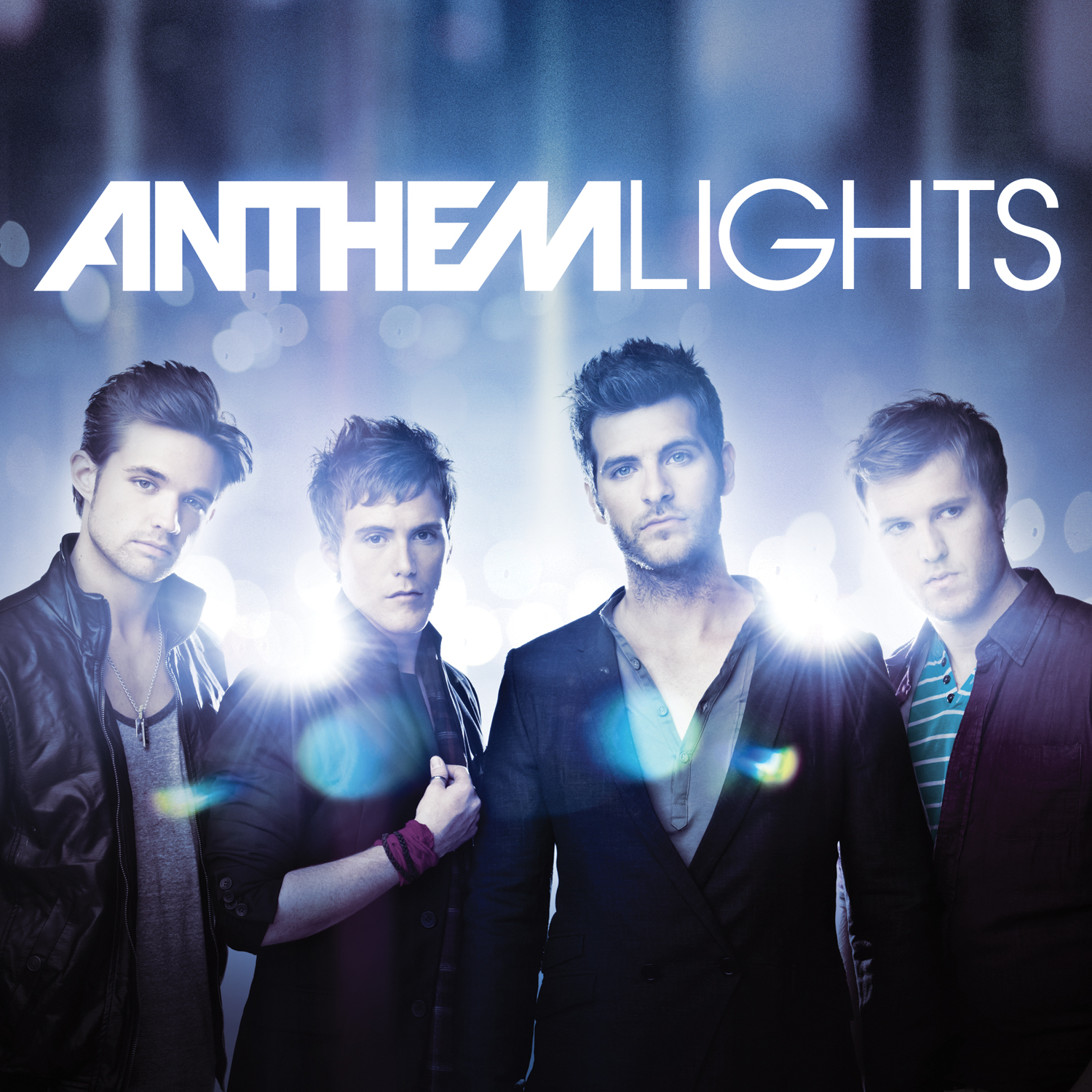 To learn more about Anthem Lights, an innovative, high-energy pop foursome, visit http://anthemlights.com/the-band/.
---
Run. Build. Go. Mileage Logs Due, April 20
CPA Elementary School students should turn in their Run.Build.Go Student Mileage logs by Friday, April 20.
---
Join Us for Carousel, April 19, 20, 21, 7 p.m.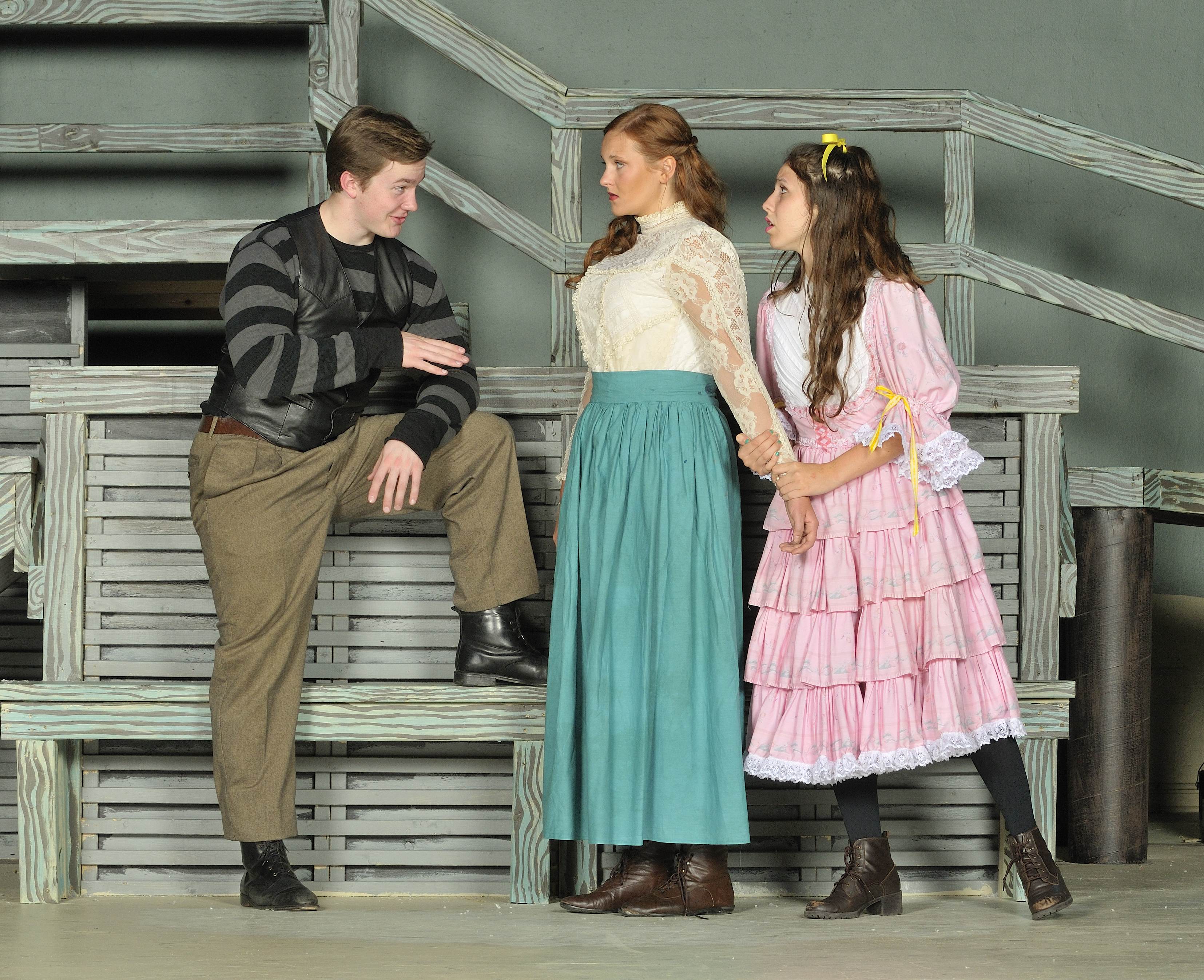 Carousel tickets are now on sale for $10 each at CPA reception desks.
When: Thursday, Friday, Saturday, April 19, 20, 21 at 7 p.m.

Where: Event Center (Formerly E/MS Gym)

Carousel, a musical by Rodgers and Hammerstein, will be featured Thursday, Friday and Saturday, April 19, 20, 21 at 7 p.m. at the Event Center (Formerly E/MS Gym). Join us for a wonderful event you won't want to miss!
In a quaint seaside village in 19th-century Maine, the fairy tale begins. There's a
carnival, where an enigmatic carousel barker meets a lovely millworker. Soon, amid clambakes, hornpipe dances, and scavenger hunts, Billy Bigelow and Julie Jordan sing "If I Loved You." But life takes a tragic turn. Then the title, Carousel, becomes a meaningful metaphor for the choices made and consequences faced as their "dreams are tossed and blown."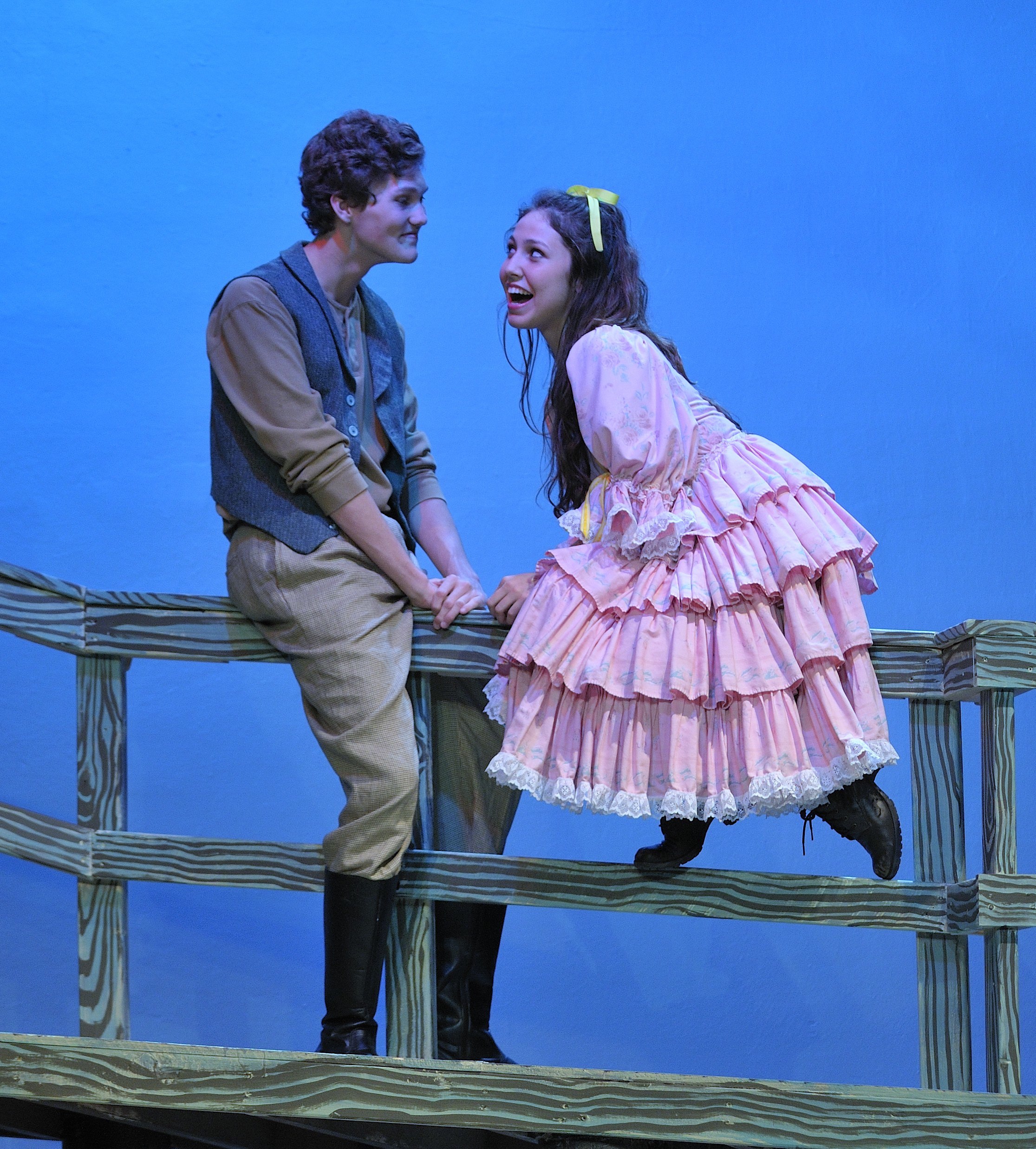 TIME Magazine named Rodgers and Hammerstein's Carousel the "Best Musical of the
20th Century." Composer Richard Rodgers called it his favorite of all his musicals, which included The Sound of Music, Oklahoma! and The King and I, and wrote that it "affects me deeply every time I see it performed."

CPA Fine Arts invites your family to join us for this fairy tale full of truth, hope, hardship, and forgiveness. An inspiring testimony to the power of redemption, Carousel promises to affect you deeply, because, as all great fairy tales, it remains relevant. And it reminds us that when in life we are tossed and blown, "you'll never walk alone."
To watch the Carousel promo video, please click on the white arrow below.


---
Roar Store Item of the Week!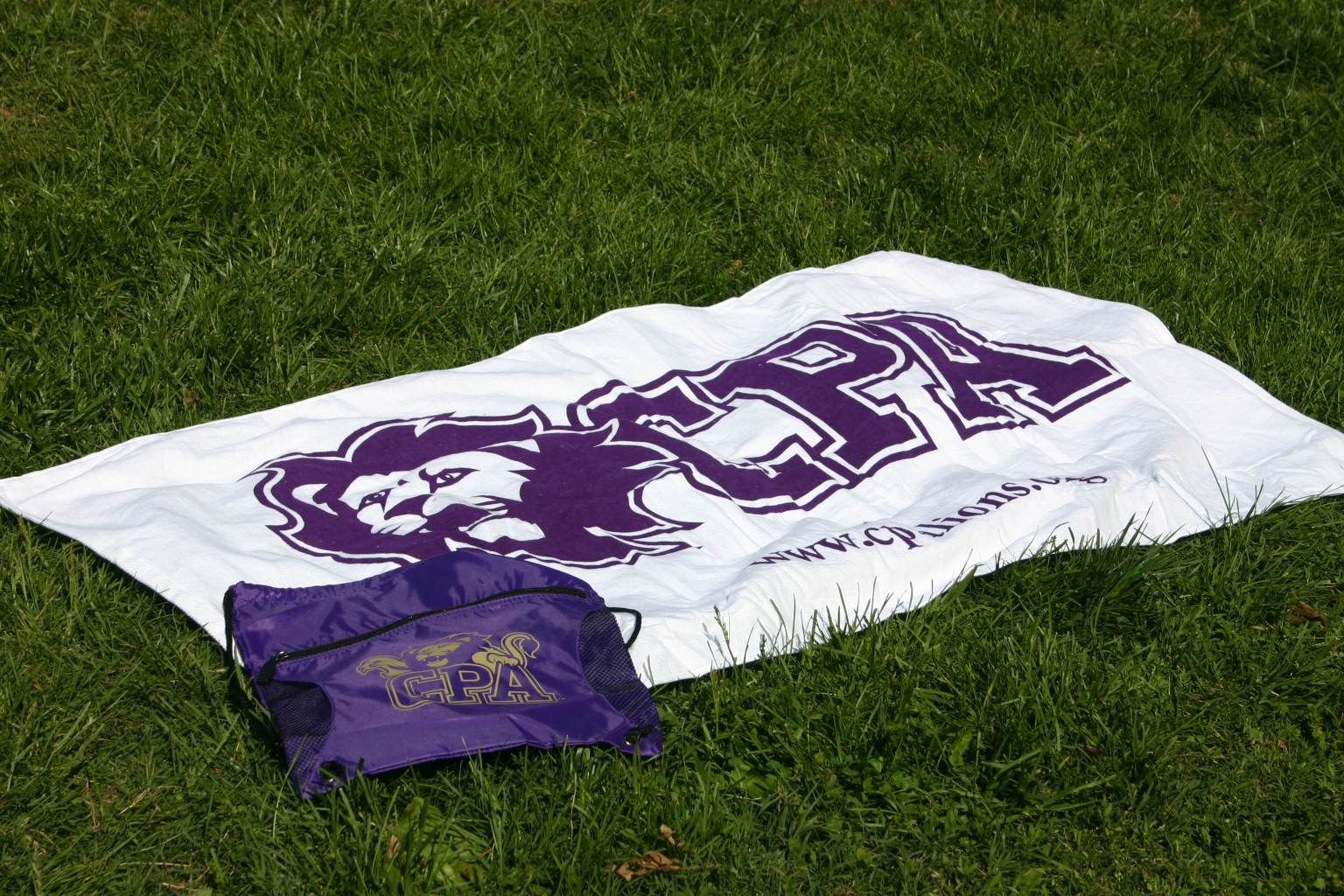 Stop by the Roar Store on the first floor of the middle school to pick up our item package of the week: a CPA beach towel, $12, and CPA zip cinch bag, $8! This is the perfect package for your next pool or beach outing!
---
PSF Priority
Pause-to-Pray Verse for Monday, April 9
At noon each Monday, we encourage the CPA community to Pause to Pray.
Monday's verse is from Ephesians 5:15-17: "Let (child's name) be careful and wise in how he/she lives, making the most of every opportunity and understanding your will for his/her life." —Ephesians 5:15-17
---
CPC Corner

Visit with the Rev. Scott and Patti Sauls
Throughout April and May, there will be an opportunity for members of the CPC/CPA community to meet new senior pastor Scott Sauls and his wife, Patti. Dates offered are Tuesday/Thursday April 17, or 26, and May 3, 10, 15, or 22. 6:30 - 8 p.m., in the Parlor (light refreshments served). Online registration is open. Groups are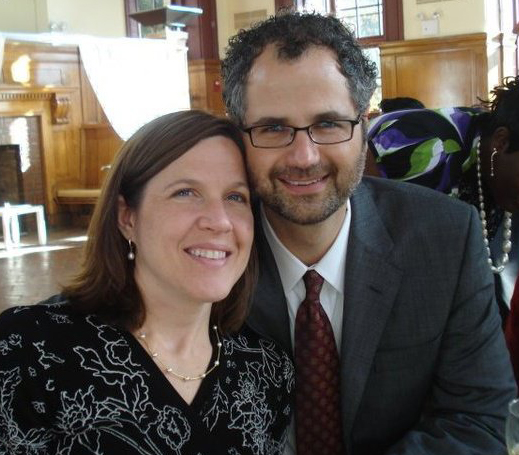 limited to 50. Note: These receptions are intended for ages 16 and above; we regret that no childcare will be available. For online registration, please click on the preferred date listed here: April 17 — April 26 — May 3 — May 10 — May 15 — May 22
Men's Ministry Conference, April 13-14
A Gathering of Men: What Will Be Your Legacy?
The Gathering of Men on April 13-14 is a unique event for men of all ages. Many CPA Dads came to the first Gathering two years ago. If your son is 13 and up (or a mature 12), it is also a wonderful experience together. Please consider taking the time to come. The following information will give you the details and tell you how to register.
When: Friday night, April 13 and Saturday morning, April 14
Friday night, April 13, 6 p.m. begins with a slow-cooked, Prime Rib Dinner. Evening activities end at 9 p.m.
Saturday, April 14, 9 a.m. Breakfast buffet included, conference concludes at 12:30 p.m.
Where: Fellowship Hall, Christ Presbyterian Church
What: An intergenerational gathering of men speaking to the identity and legacy of men. Featuring lead speakers, Bill Delvaux and Chuck SugarWho.
Cost: $40 per person ($100 family maximum)
Friday night only: $25 per person
Saturday only: $15 per person

Scholarships are available on-line (to give or receive).
How to Register: Sign up by clicking HERE.
For questions, contact Diane Baker, Christ Presbyterian Church, or 615.301.3581.
Deadline to register is Thursday, April 12.
For a special TEASER VIDEO, click HERE.

Little South of Broadway

—A "GIRLS' NIGHT OUT"
Thursday, April 19, 5:30-10 p.m., CPC Parlor and Event Center
Gather together a group of girl friends (and daughters) from your neighborhood, workplace, small group, children's school or maybe some women you'd like to become better acquainted with, and join us for a light supper in the Parlor followed by the CPA production of Carousel. CPC members in leading rolls are: Meg Perdue, Girault Seger, Buck Wise, Jim Clarke and Mary Peyton Hodges; CPA students featured are Gabrielle Toledo, Abby Newman, Patrick Eytchison, Cullen Williams, Lydia Granered and Nathan Thomas (in order of appearance). Cost is $15 and covers the meal and the musical. Register online HERE by Noon on Tuesday, April 17.
---
Athletics: Upcoming Events
April 16:
HS Girls Tennis @ Ravenwood, 3:30 p.m.
HS Boys Tennis vs. East Literature, 3:30 p.m. @ Sequoia
MS Girls & Boys Tennis @ DCA, 3:30 p.m.
MS Softball @ Ezell Harding, 4 p.m.
HS Softball vs. Harpeth Hall, 4:30 p.m.
HS Baseball @ Shelby Park vs. MLK, 7 p.m. - JV @ 4:30 p.m.

April 17:
HS Track @ Vanderbilt Great, 4 p.m.
HS Boys Tennis vs. Goodpasture, 4 p.m.
HS Softball vs. David Lipscomb, 4 p.m.
HS Soccer @ Stratford, 4:30 p.m.
HS Baseball vs. Hume Fogg, 4:30 p.m.
MS Softball @ David Lipscomb, 4:30 p.m.
MS Baseball @ FRA, 4:45 p.m.

April 18:
MS Girls Tennis @ Harpeth Hall, 3:30 p.m.
HS JV Baseball @ Harpeth High School, 4 p.m.
HS Softball vs. St. Cecilia, 4:30 p.m.
MS Baseball vs MBA @ Warner Park, 4:30 p.m.

April 19:
MS Boys Tennis @ MBA, 3:30 p.m.
MS Track Inman Relays @ MBA, 4 p.m.
MS Track 5th & 6th Grade Meet @ USN, 4 p.m.
HS Softball @ MLK, 4:15 p.m.
HS JV Baseball vs. MBA, 4:30 p.m.
HS Baseball vs. Community @ MTCS, 5:45 p.m.

April 20:
HS Girls Tennis vs. Father Ryan, 3:30 p.m. @ Sequoia
HS Track @ Volunteer Track Classic in Knoxville, TN, 3:45 p.m.
MS Track Inman Relays @ MBA, 4 p.m.
HS JV Baseball vs. Father Ryan, 4:30 p.m.
HS Baseball @ Eagleville, 5 p.m.
HS Soccer @ MLK, 7 p.m., JV @ 5 p.m.

April 21:
HS Baseball @ Cascade
HS Track @ Volunteer Track Classic in Knoxville, TN, 8 a.m.
MS JV Baseball vs. MBA @ 42nd Avenue, 11 a.m.
MS Baseball vs. MBA @ 42nd Avenue, 1 p.m.